Burton creates haunting vision in 'Sleepy Hollow'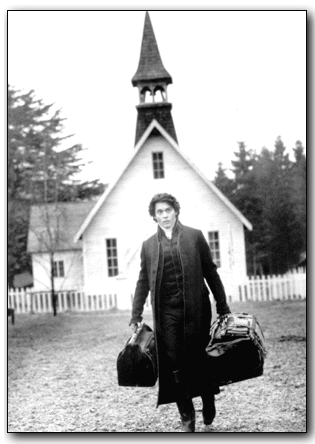 Arizona Daily Wildcat
Photo courtesy of Paramount/Mandalay Pictures Johnny Depp stars as Constable Ichabod Crane in Tim Burton's "Sleepy Hollow," a less- than-suspenseful interpretation of Washington Irving's classic story.
The contrast between one of Johnny Depp's last roles, gangster Donnie Brasco, and his part as the effeminate Constable Ichabod Crane in "Sleepy Hollow" not only speaks to his range as an actor, but also to the weird results that come from collaborations with director Tim Burton. Burton formerly transformed the heartthrob into the quirky outsider Edward Scissorhands and Ed Wood.
Depp's newest film incarnation is as an earnest but weakly constable devoted to reason and sensibility. Superstition has no place in his belief system, so he promptly questions his own assumptions when his superiors send him to the village of Sleepy Hollow to investigate a series of beheadings. The locals blame the murders on the Headless Horseman, but Crane is determined to find a human cause.
The original Washington Irving story the film is based on was titled "The Legend of Sleepy Hollow." The film drops that legend part from its title because it simply takes the legend out of the story, providing explanation after explanation, until by the film's end, the audience is left with no sense of the mystery established at the beginning. It is a shame that Burton didn't learn anything from the Disney version of this story whose ambiguous ending still intrigues and haunts viewers.
"Sleepy Hollow" is largely a detective film, and the narrative proceeds as all detective narratives proceed: exposition, investigation, false lead, mysterious clue, false lead and explanation of the plot by the detective.
Screenwriter Andrew Kevin Walker has shown considerable talents with his previous projects, "Seven" and "Fight Club" among them, but does little to deviate from formula here. Of course, this is a formula that audiences have enjoyed time and time again and "Sleepy Hollow" is not an exception in this respect.
The narrative is not really important anyway, not when the stunning visual achievement is considered. Trite dialogue, even if delivered in clever archaic diction, and the contrived romance between Crane and village beauty Katrina Van Tassel (the unlikely and enjoyably eccentric leading lady Christina Ricci), all become bearable when set against the backdrop of Burton's exquisitely realized town of Sleepy Hollow. Perpetually overcast skies loom above the dark, harrowing rustiness of the town, a place that is seemingly always wet from a rain that never comes.
Cinematographer Emmanuel Lubezki ("Meet Joe Black," "Like Water for Chocolate") uses the screen as a canvas for their impressionistic vision of a town where a heavy fog constantly presides over the oppressive atmosphere. Their vision is bold and it astounds the viewer at every turn.
Burton creates believable, exotic locales as settings for his films better than anyone else. The set design and lighting is merely a part of the whole. Burton consistently brings to life a frightening, foreboding world that is home to the Headless Horseman (Christopher Walken). The Horseman himself is not all that other-worldly, but in Burton's environment he becomes imbued with a palpable sense of mystery and fright. What makes Burton such an accomplished director is his ability to not only relate a story but to relate the world of that story, and "Sleepy Hollow" is emblematic of this.