Do or die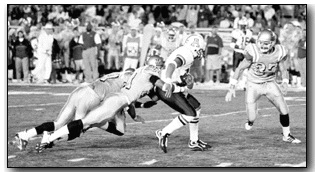 Matt Heistand
Arizona Daily Wildcat
Freshman wide receiver Bobby Wade gets tackled by a UCLA defender after making a reception in the first half during the Wildcats victory over the Bruins on Oct. 30. Wade will make his first trip home as a Wildcat when UA takes on Arizona State on Saturday morning at 11 in Sun Devil Stadium.
The last time UA freshman wide receiver Bobby Wade was at Sun Devil Stadium in Tempe, he was on top of the world.
Desert Vista (Phoenix) High School had just beaten Brophy 38-31 for the 5A state championship on Dec. 11, 1998.
Now Wade is returning to Tempe on the other end of the spectrum as the Wildcats (6-5 overall, 3-4 Pacific 10 Conference) crawl into Sun Devil Stadium this Saturday at 11 a.m. for a regular season-ending showdown with arch-enemy Arizona State (5-5, 4-3).
"I think this is for me, personally, this is the biggest game," he said. "Especially going back and playing ASU, I was heavily recruited by them. I kind of got a little personally involved with them. I knew their coaches a lot, I played in the state game at ASU. I think it's a real big time for me, especially going back and being in the position to do something against them."
Wade was a tailback in high school but was recruited by ASU as a defensive back. UA, though, told him he could play on offense and when the opportunity came up for Wade to earn playing time as a freshman, it came as a wide receiver.
"That was a tough transition," he said. "I loved running back so much, but it was my choice and the coaches put no pressure on me at all."
Wade has gone on to become Arizona's No. 2 receiver (26 receptions for 370 yards, 4 TD) behind senior Dennis Northcutt.
But that doesn't mean Wade is happy with how his first year at Arizona progressed.
"Not at all, I'm not satisfied with what I did this year," he said. "I'm comfortable, getting to know the coaches, the system. But I've made too many mistakes this year. I can't ever say I'm satisfied, though."
Now as Wade enters what could be the final game of his freshman year he said he still isn't quite sure what to expect from his first time going against the Sun Devils.
"I can't even imagine it," he said. "Even though I've been in Phoenix watching the ASU-UA games. Everything is different. They say wait till the week starts. People are going to start talking about it. It's going to be bigger than you imagine. The feeling when you step out onto the field it's going to be bigger than the Penn State game, the Washington game."
UA head coach Dick Tomey said that who wins the rivalry doesn't instantly win the allegiance of all the in-state recruits, but Wade said UA's back-to-back wins over ASU the past two seasons helped in his decision between the two schools.
"It helps a lot in deciding what school to go to," Wade said. "Seeing that rivalry, how you end the season, that's big for them. Not just Arizona's season but just (winning) the rivalry, that helps a lot."
Wade's teammates, especially the seniors, are even more fired up for the game.
"It means a lot to me," senior whip linebacker DaShon Polk said. "First of all, just going out winning. I don't want to leave my last game here known as a loser. We're playing one more game to go to a bowl game. We just want to beat ASU. Everybody hates them."
UA senior running back Trung Canidate, another Phoenix area native, has wondered about the possibility that this game could be his last.
"That's been popping up in my mind," he said. "But I'm looking on the positive side. I'm trying to attain what the Wildcats can attain. Let history be history. Right now we've got ASU on our hands and that's what I'm fired up about. If we win this game then I'll worry about the bowl game."
The other players aren't about to let the seniors end their careers in Tempe.
"They're not going to be possibly playing their last game," junior right guard Marques McFadden said. "We're going to win."