Anatomy of a season's end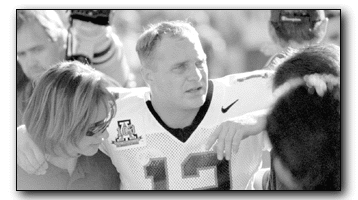 Matt Heistand
Arizona Daily Wildcat
Senior quarterback Keith Smith walks off the field with help from trainers after getting injured on his last play as a Wildcat. Smith and a few other UA players talked to the media after the 42-27 loss at Arizona State, while the rest of the players had dazed looks on their faces as they packed their bags en route to Tucson.
Editor's Note: The UA football team's season came to an end on Saturday with a 42-27 loss to Arizona State. No bowl game, a .500 finish and, for some, a less-than-storybook conclusion to their career as a Wildcat. Here's what happened after the game.
TEMPE -Keith Smith hobbled off the field with the aid of two trainers, a sea of maroon pompoms and golden clad fans moving violently back and forth, back and forth above him. The crowd noise seemed residual now, more than two minutes after the last play of the game had been played. It wasn't deafening. It wasn't mocking. It was just there, like a soundtrack of disappointment barely audible, coming from somewhere.
UA football assistants wheeled in big red carts of drinks and equipment down the smooth slope of grass while some of the Wildcat cheer team took a picture, all smiles, with Wilbur the Wildcat.
A barricade of police officers surrounded the field goal posts as some students, drunk off excitement or intoxicants, eyed the fluorescent yellow posts.
The UA football team began to filter through the tunnel toward their locker room. Two signs hung above them - "Thank You Sun Devils" and "Bear Down This Arizona." Dennis Northcutt and Trung Canidate walked, side by side, through the tunnel. Northcutt held up his index finger, oblivious to the shouts and yells pouring out of the mouths of grown men. He kept his finger up, signaling "Number One," well into the darkness of the tunnel.
The tunnel turned from dark to light and gave way to a black asphalt path lined by gray cement blocks until it came to the opponent locker room - the Wildcat locker room.
The media waited five, 10, maybe 15 minutes with recorders and notebooks handy, ready for when the security guard in charge gave the word: "Okay, you guys can go in."
The press, broadcast members brandishing microphones, cameras and bright lights, rumbled down the corridor to the locker room and as they entered, none of the players really turned around, maybe a couple, but no acknowledgment was given.
Dick Tomey was constantly moving from player to player with the same scene panning out. Tomey hammered home words with a player, his blue eyes fixated in a stare. The player sat with his head down, nodding, understanding and then moved on.
Tomey walked over to much maligned kicker Mark McDonald and talked a little longer with him. Mark nodded his head.
Hugs were exchanged, headphones were stuffed into ears and gym bags were packed.
Dennis Northcutt walked around the locker room offering some words of encouragement for those that have maybe one or two more years at Arizona.
"Lots of work next year," he said. "Lots of hard work."
The exit door opened and the dimly lit locker room became flooded with sunlight. Through a chain-link fence 50 feet from the door stood a group of 10 people, heckling the players as they exited.
"You guys suck."
"Go back to Tucson."
Players began to walk out to the bus but most were left, walking around in towels, putting on clothes and the ones that played well or are seniors, talked to reporters.
"It just hurts," was the phrase most often heard in the interviews.
Members of the team were asked to offer insight and perspective to the loss, their career, their future prospects. Some of the more media savvy and composed members of the team like Northcutt offered up some words.
"You have to look at this as a stepping stone..." he began.
Others cried.
Still others dressed in silence, not pestered by bright lights and harsh questions. They didn't do well enough to be talked to.
But don't feel sorry for them, just understand.
Preseason hype, a loss to Penn State, a conference loss to Stanford, a slew of wins and then three losses. When it rains, it pours for the UA football team. Saturday it poured for the last time, for some.
"Their 6-6, don't feel sorry for them," a media member said. "They'll be talking about beer and cars on the bus ride home."
DaShon Polk, a 6-foot-2, 230-pound inside linebacker took off his uniform and held it in front of him.
"This is the last f--king time I get to wear this," he said, gripping the red, white and blue jersey until his veins and arms bulged. He had to look down - he couldn't talk anymore.
A guess - he wouldn't be talking about cars and girls on the bus ride home.
Almost everyone was gone and Tomey remained, surrounded by reporters and questions in the outside hallway. He fielded the predictable questions and gave the predictable answers with a calm and cool tone, no fluctuations in his voice.
Camera lights turned off, recorders and red lights switched from the blinking "on" position to "off." Team assistants packed miscellaneous gear. The press strolled out in groups of two and three.
A UA player took an "Arizona" sticker off his helmet and put it on his Discman. The exit door opened again and again and stayed open for a long time until the locker room was bare except for a couple people almost on their way out.
Almost an hour after the game ended and after most of the team had showered and dressed and boarded the bus, Marcus Bell sat in a red chair with his uniform still on. He stared at his locker as the clock on the wall ticked past 3:15.