Wessel steps in to do the dirty work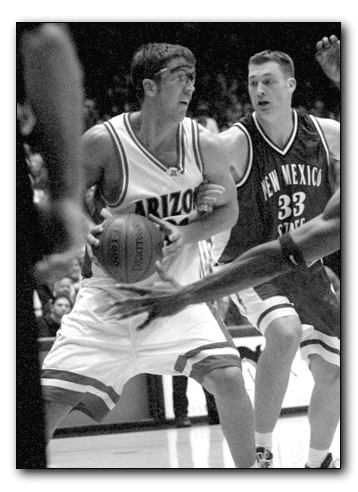 Nicholas Valenzuela
Arizona Daily Wildcat
Junior forward Justin Wessel looks for a shot or a pass as he holds the ball in the low post during the Wildcats 84-60 victory over New Mexico State in the second round of the Preseason NIT. Wessel is finally coming into his own as a Wildcat after three years of learning in the program.
Perhaps the best thing about senior Eugene Edgerson redshirting this year was that the team lost some of its grit.
Without "Mean Gene" on the floor, other Arizona players have had to step up and fill in for Gene's Nike shoes, which were originally ordered for former Wildcat Jud Buechler in the late 1980s.
Over the first four games of the 1999-2000 season, multiple players have done their best to wreak havoc on the floor, but one player has stood out - junior forward Justin Wessel.
The statistics may not reflect his hard work or his contribution, but Wessel isn't too concerned about his 4.25 points and 2.5 rebounds per game.
"That's kind of my role this year, come in and do the dirty work," Wessel said. "We don't have Gene around, and no one's Eugene Edgerson, but Luke Walton and I come in, that's what we try to do and we've been doing pretty well at it."
Wessel came to the UA in 1996 as a highly touted recruit. He was Mr. Basketball in Iowa and a McDonald's All-American at Prairie High School in Cedar Rapids, Iowa. He redshirted his freshman year and fractured his ankle that December, but was able to travel to Indianapolis and take part in the 1997 national championship celebrations.
Wessel saw more action in the 1997-98 season, but really stepped his game up during the 1998-99 campaign, playing in all 29 games and starting seven of them. He scored a career-high 15 points against Wyoming and pulled down a career-high seven rebounds against Washington State.
Coming into his junior year, Wessel expected more of the same, limited role, but his strength is that he can play any one of the forward positions.
"We've worked Justin on the inside and I think we'll leave him there," head coach Lute Olson said. "Justin's gained the weight you need to play inside."
Wessel is happy wherever he can contribute.
"It's cool right here what I'm doing, but the four or five, they're pretty much the same position," he said. "I like to get out and dribble around a little bit, but it's cool."
Instead of worrying about playing time, Wessel has tried to focus on a different role.
"I'm just trying to be a leader, since I've been around a lot longer than most of these guys," he said. "Hopefully, just add to Mike Wright, Loren (Woods) and Richard (Jefferson) also, using my experience to help them out."
In his time at the UA, which has seen both the ups and the downs, there isn't much Wessel hasn't seen. That's why the coaching staff paired him and junior guard John Ash with junior forward Luke Recker, who transferred from Indiana over the summer.
In July, Recker was involved in a major car accident in Durango, Colo., which killed the driver of the car and keeps Recker's girlfriend and her brother in the hospital to this day. Recker was lucky, escaping with a fractured wrist and a lacerated ear, but had difficulties dealing with the tragedy.
"It's really amazing, all the stuff he went through," Wessel said. "It put things in perspective and reality for me. Most kids, 21-year olds, it would be really hard on them, it's still hard on them."
Compared to what his new roommate has gone through, doing the dirty work on the floor is easy for Wessel.