Residence hall construction runs over 2 weeks late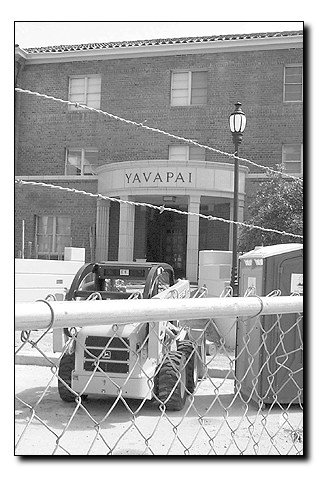 Matt Heistand
Arizona Daily Wildcat
Yavapai Residence Hall construction, which has no estimated time of completion, was scheduled to end more than two weeks ago. The building is being renovated to meet disability regulations and fire code requirements.
By Ty Young
Arizona Daily Wildcat,
August 31, 1999
Lost amidst the current Memorial Student Union and Integrated Learning Center construction is the project at Yavapai Hall, where students have raised complaints about interruptions in their daily lives.
Earlier this summer, construction began on the north side of Yavapai Residence Hall, 1222 E. South Campus Dr. Plans to improve the two fire escapes and increase the accessibility of the residence hall have caused the University of Arizona Department of Residence Life to relocate students for the beginning of the semester.
A total of 18 students have been moved into other rooms in Yavapai and other halls.
Of those students relocated, eight are currently housed with Yavapai residence assistants. Six others have been relocated to RA rooms in other halls. In addition, two disabled students were moved to other halls due to the lack of handicap accessibility at Yavapai.
The renovations were expected to be finished Aug. 12, but Residence Life Director James Van Arsdel said there is currently no estimated completion date.
Some students said they are upset at the continuing construction.
"It's inconvenient and it was supposed to be done over the summer," said physics sophomore Seth Swift, who has lived in Yavapai and Stadium residence halls.
Residence Life officials said they understand and regret the disturbances caused by late-running construction.
"This kind of disruption is not easy to deal with, but I have been amazed with the ability of all residents, especially those who had to be relocated, and the staff, to be flexible and patient," Van Arsdel said.
Prior to moving in, residents were sent a letter explaining the prolonged construction. Those who were relocated were notified well in advance concerning their room changes, Van Arsdel said.
Construction is intended to bring Yavapai Hall up to Tucson fire code standards. The two fire escapes located at the south wings of Yavapai are no longer in compliance with fire regulations.
The state fire marshal instructed the UA to widen the escapes in order to meet Tucson requirements. Additionally, the front entrance to the residence hall was not up to the 1990 Americans with Disabilities Act standards.
Two temporary fire escapes were built this summer near the back stairwells. Both have been deemed up to code by the Tucson Fire Department. Residents and RAs have practiced fire drills and are considered by Residence Life to be well prepared in case of a fire, Van Arsdel said.
Due to construction, access to Yavapai has been restricted to one doorway on the north side of the building. Guests must call the displayed RA phone number if they have no student escort.
This has caused difficulty for both residents and guests who wish to enter the building.
"It's a pain. It would be nice to be able to walk through the front door," said Jason Allaud, a geological engineering freshman. "It doesn't seem that they work very hard."
Students have also complained about early morning construction that has caused some distractions.
"They start at 6 a.m.," said business sophomore Christy Bear. "It wakes you up."
Workers have been instructed to begin construction no earlier than 8 a.m. If further problems persist, students are invited to contact Dennis McCarthy, UA construction project manager, at 621-9372.
Responding to student complaints, Van Arsdel said, "My first response is to say how much we all regret that the situation has come up at all. I know that residents face any number of issues, ranging from little annoyances to significant distractions, when a project like this is not completed on schedule."
UA officials said they have no idea when the Yavapai construction project will finish.
"The unfortunate reality is that we cannot know exactly when work will be done because that is not in our complete control," Van Arsdel said. "We are doing all that we can, however, to see that work is complete just as soon as possible."