Shakespeare in the cellar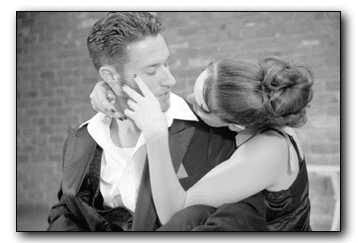 Matt Heistand
Arizona Daily Wildcat
Don John, played by business junior Robert Peters, and Conrad, played by theater arts senior Rochelle Warriner, share an intimate moment in the University Activities Board's presentation of "Much Ado About Nothing." The play is produced in conjunction with the Shakespeare in the Cellar Series.
A brightly lit, sparsely decorated stage has transformed the Memorial Student Union's Cellar into the University of Arizona's newest forum for high culture.
Beginning tonight, the University Activities Board, in conjunction with the Shakespeare in the Cellar Series, presents one of Shakespeare's most beloved comedies, "Much Ado About Nothing."
Directed by University of Arizona theater arts senior Caitlein Ryan, this is the third year the Bard has been performed in The Cellar.
Ryan, involved with this project from the outset, has definite objectives in mind.
"The idea for this was to give people who aren't theater majors the opportunity to get involved in the theater," she said. "Right now the only students with access to a stage are those pursuing their BFA (Bachelor of Fine Arts). I want to work with people not otherwise involved in the theater, to let them create and experience the magic in theater."
The tightly knit cast drawn from the 70 who auditioned confirms this heterogeneity. Ranging from nutritional science to history majors, they all still share a common passion for acting, and, as evident in their performance, share a wonderful talent for this art.
"Much Ado About Nothing" is a comedy of love and cunning. As Claudio and Hero fall in love and plan their wedding, attention is secretly turned toward Beatrice and Benedick and how to bring them into "a mountain of affection."
As these two live to antagonize each other, to bring this about is a daunting task. By allowing them to overhear staged conversations and by arranging meetings between the two, the ice melts and the walls crumble and they are manipulated into becoming wholly devoted to one another.
This modern interpretation of Shakespeare's comedy is a highly entertaining and well-paced production. Although it is not perfectly executed, the brilliant wit of Shakespeare as well as his deep understanding of human nature comes alive on this small stage.
The chemistry between Claudio (Skip Hawley) and Hero (Brooke Wonders) is not only credible but also powerful at times. The Constables Dogberry (Max Gillmol), Verges (Jonathan Thomas) and the night Watch (Eliza Robinson), with their sight gags and slapstick, lend excellent comic relief to the whole production. The grace of Catherine Kresge as the bitter-turned-beloved Beatrice is captivating.
"The whole experience of doing a play is so worthwhile," Kresge said.
And their drive to create an exceptional product is a great success. Ryan has created a great dramatization of this play while remaining loyal to its spirit. The players work well together, interacting naturally and smoothly, and they use the space (or lack thereof) with great imagination and energy.