Wildcats look to extend undefeated streak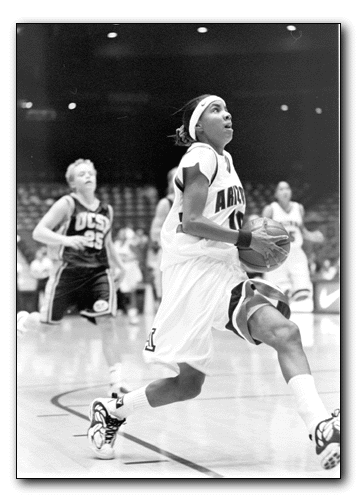 Joshua D. Trujillo
Arizona Daily Wildcat
Junior guard Reshea Bristol goes up for a layup during the Wildcats win over UC Santa Barbara last week. The Wildcats will be hunting for some redemption tonight when they take on Colorado State, who beat them in Colorado last year.
With a chance for redemption and an opportunity to extend its undefeated streak to six games, the No. 21 UA women's basketball team plays host to Colorado State tonight at 7 at McKale Center.
Last season, the Rams outlasted Arizona in Fort Collins, Colo. with a 13-4 run over the final four minutes to beat the Wildcats 80-70. But the Wildcats are looking to turn the tables at this meeting.
"This is a game that we really felt like we had a chance to win a year ago with a good lead in the second half, but we gave up with them making threes and us getting into a little bit of foul trouble," Arizona head coach Joan Bonvicini said. "It's a game that we felt we gave away last year and we want to get it back now."
In last year's meeting, the unranked Wildcats were led by sophomore Reshea Bristol who scored 18 points, which was not enough to get by the No. 9 Rams, who had two players scoring over 20 points.
The Wildcats haven't had an easy game in a long time, and are hoping to go to their bench tonight and really take it to the Rams, who have lost key players from last year to graduation.
"We haven't really outscored anybody by a lot, so we're really looking to take advantage of our height and our quickness and get a big win," senior guard Lisa Griffith said. "We want to come out and show them what we've got."
Griffith added that extending their winning streak is meaningful because they want to go into the Insight.com Bowl Basketball Classic next weekend with momentum on their side.
"I think that it is really important because we want to go into our tournament with not only a 6-0 record but a good feeling about playing well and keep improving every game," Griffith said. "We just want to keep getting better because we have a lot of testing points coming up."
Once again, senior forward Tatum Brown said that in order to win this game, they need to minimize the number of basic errors they have committed in previous games.
"Defense has got to be the biggest thing, but we also need to take our time offensively," she said. "A lot of times we force our own turnovers with bad passes and make little fundamental mistakes that shouldn't be made, so if we slow down and let the game flow, we'll come out and test them."
Arizona needs to beware of the Rams' ability to hit the outside shot, because Colorado State lives and dies from behind the three-point arc.
"They are a great three-point shooting team and their philosophy is that no matter what the score, they always feel like they are in the game because their three pointers can always bring them back," Bonvicini said.
Bonvicini added that rebounding missed shots and understanding the spread offense is going to be a key.
"Our big thing is to do a good job closing out and a much better job boxing out," she said. "They have a very good point guard in Roxanne Manning who can break you down, as Colorado State is not particularly tall, but they're very effective because they spread the court well."
Aside from Manning, the Rams are led by junior forward Heather Haanen who is averaging 14.6 points per game, and senior guard Jacque Johnson who is scoring 12.6.
This is the eighth meeting of Colorado State and Arizona, as the Wildcats have a 5-2 series lead.