AASA director runs marathon to raise funds for center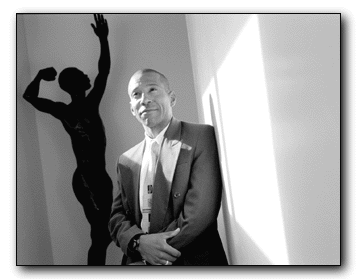 Joshua D. Trujillo
Arizona Daily Wildcat
Alex Wright, director of the African American Student Affairs Center, ran in the nationally recognized Tucson Marathon yesterday to raise money for the student center. Wright placed in the top 30 finalists of the race which attracted more than 3,000 runners.
Alex Wright, director of African American Student Affairs, ran in a 26-mile marathon yesterday, to raise money for UA's Martin Luther King Center's resources.
Wright, who has participated in 22 other marathons, ran the nationally recognized Tucson Marathon to draw pledges from donors across the country for the student center.
"Knowing how this went and knowing the possibilities, I would say I could run every year to try to raise money - I wouldn't be opposed to doing that," Wright said.
"What I want to do is raise attention about the center and what the center is doing ... I don't mind sacrificing my body periodically," he said.
Wright will receive pledges from University of Arizona faculty, students and Tucson community members.
He also hopes by running the "fastest USA Track and Field marathon course in the country," he can target large corporations for donations, he said.
He said he believes he placed in the top 30 of more than 3,000 participating runners.
"We decided to do this at the last minute so we weren't able to get (the pledge campaign) off early enough - we decided the Sunday before Thanksgiving," Wright said. "We do have some (money) pledged, but at this time are unsure about the amount - we're getting something out of this deal."
Wright's participation in the run began in the town of Oracle and ended at the Sheraton El Conquistador Resort and Country Club, 10000 N. Oracle Road, approximately two hours and 25 minutes later, he said.
"I think that's a selfless service - determination and the ability to show his dedication to African-American students and shows how far he would go to make sure the task is complete," said William Griffin, sociology senior.
"He is getting a mark as a director by going beyond the call of duty. By going out to put his body at risk shows his dedication to the student body," he said.
Wright, who said he was in extreme pain and fatigue after the marathon, said while the center receives a considerable amount of funding from the UA for many events, the call for more money was raised as the center's resources - namely computers - began to falter in performance.
Griffin agreed the computer lab needs improvement.
"It easily sets you up for failure because the computers here are not as reliable as other computers. When I go to those labs I feel like we are the stepchild of this campus," Griffin said.
"As an African-American student I can't, come to my own recreational center and work with the computer and software I need. This puts a damper on the information I may need," he said.
Griffin added that without the up-to-date computers, he is forced to use other facilities on campus where he is unable to get useful information about the center's events.
"We need to be very creative as to how we try to obtain resources - it's a huge cost and other centers have focused on raising funds to get more software and programs," Wright said. "Other centers seem to have more support but more fund-raising efforts have taken place (and) we haven't taken advantage of those opportunities."
Other students agreed that the resources are lacking efficiency and reliability and some agree that it is best to use other labs.
"The computers here are very unreliable. As for a lot of students I've witnessed, students have lost their papers, disks have been ruined and the printer is very slow," said Michelle McLaughlin, psychology senior.
"I've seen people in tears because they've lost things during finals so the best thing you can do is stay away from (the computers)," she said.
While the pledges from the run will not be applied towards the purchase of new computers, Wright said he hopes the publicity would eventually draw in more money that will eventually go towards computers.
For the time being, the center is raising its own money for new computers.
"These computers are real old, out-dated, and need new RAM (memory) - students use them but they probably go to other computers to print out," said Shaun Brown, civil engineering sophomore.
Because Hewlett-Packard has awarded about $61,000 to three UA departments within two years, Brown is collaborating with other AASA members to write a grant proposal for 20 computers.
"A lot more students would use the facility more often if there were not as many problems getting information off their disks," Brown said.