Faculty Senate honors deceased professor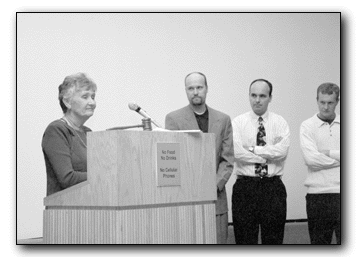 Aaron Farnsworth
Arizona Daily Wildcat
Marie Hill, wife of the late UA electrical and computer engineering professor Fredrick Hill, was presented with a plaque in honor of her husband's numerous achievements at the UA. The Hill family was invited to attend the Senate meeting and Marie thanked the UA senators for their praise.
Faculty senators yesterday began their meeting with a salute to a former member who died last month.
Faculty Chairman Jerrold Hogle presented a Lifetime Achievement Award to the family of deceased professor Fredrick Hill.
Hill, who retired from the University of Arizona's electrical and computer engineering department in May, died of an apparent heart attack while at a men's basketball game at the McKale Center Nov. 19.
Hogle acknowledged Hill's achievements as a faculty senator, conciliation committee member and intercollegiate athletic committee member.
"I'm sorry to say it's a little late, we should have done this years ago," Hogle said. "Fred was a friend."
He added that Hill's contribution to Tucson went beyond the UA.
"The service he gave to the community was extraordinary in itself," Hogle said. "Fred gave and gave and gave of himself."
Senators waited in silence as Hogle gave the award to Hill's widow, Marie.
Marie Hill said she appreciated the award.
"Fred loved the university, and he loved everyone he was involved with here," she said.
Larry Schooley, Faculty Senate presiding officer, concluded the presentation, which ended with a standing ovation.
"The significance of his service was the degree of collegiality he maintained," he said.