New film is a touching tribute to Andy Kaufman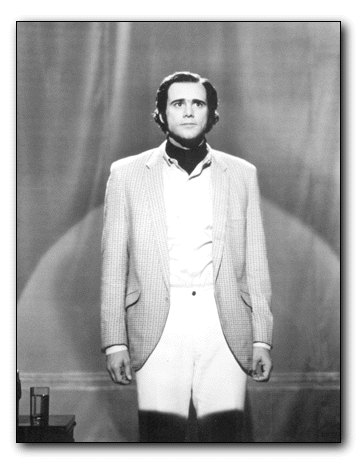 Arizona Daily Wildcat
Photo courtesy of Universal Pictures/Jersey Films Jim Carrey stars as Andy Kaufman, one of the most innovative and enigmatic comics of his time in the new Universal film "Man On The Moon."
No one ever knew the real Andy Kaufman.
Not his friends. Not his family. Not his wife. And certainly not those who loved him or those who hated him. Andy Kaufman may have been a comic genius or just plain crazy. Director Milos Forman's new film "Man on the Moon," a biopic of the legendary performer, is not going to shed any light on that subject. The filmmakers don't know any more about Kaufman than this audience.
Well, maybe a little more. They do, after all, present many of the behind-the-scenes events of Kaufman's professional career, from his early days in stand-up to his performance at Carnegie Hall and his personal life, including his curious courtship with his wife and his fondness for New Age meditation.
Yet the film never gives its audience a glimpse of the real person behind all of Kaufman's comic characters such as Latka and Tony Clifton. In fact, "Man on the Moon" revels in Kaufman-esque ambiguity, right down to perpetuating the mysterious is-he-or-isn't-he death of the late comic.
The tone of the film takes its cue from Kaufman's oddball nature. The opening sequence consists of Jim Carrey as Kaufman's Latka announcing the end of the film followed by the end credits. It's playful and hilarious and very much in the spirit of Andy.
"Man on the Moon," however, is a little too much like Kaufman in that so much of the script is composed of Andy's comedic performances that Kaufman should have received a writing credit. Those not familiar with his unique brand of comedy will find it shocking and hilarious, and those who are, may enjoy reliving this extraordinary experience that is Andy Kaufman.
Screenwriters Scott Alexander and Larry Karaszewski, who teamed up with Forman for another biopic "The People Vs. Larry Flynt," ignore most of Kaufman's childhood in favor of highlighting the repeated conflicts between his original form of comedy and a public that always seemed to miss the joke, unaware that they were the joke. Forman seems obsessed with outsider characters (McMurray, Amadeus and Flynt) who challenge the status quo, but at least he does it well.
Despite all of these questionable methods, "Man on the Moon" is a wonderfully funny and often touching film. Jim Carrey shines in the performance of his career, practically channeling the spirit of the late Kaufman. He even stayed in character after the cameras stopped rolling. "Truman Show" did not yield him an Oscar but "Moon" is bound to finally earn this actor the recognition he deserves.
Carrey leads an impressive cast including Danny DeVito as Kaufman's agent George Shapiro and great 90s character actor Paul Giamatti as Kaufman writer Bob Zmuda. DeVito, Shapiro, and Zmuda all knew Kaufman personally and their producing credit for the film has resulted in a sensitive, emotional tribute to a great and groundbreaking comedian.
The film reminds its audience that Andy Kaufman wanted to subvert our expectations and revolutionize the relationship between performer and viewer, despite his repeated insistence that he was only a "song and dance man."
Whether wrestling women or denigrating Southerners or spewing obscenities as his alter ego Tony Clifton, Kaufman inevitably brought out an emotional reaction from his audience, be it love or hate. He reached every person he performed for, and "Man on the Moon" is a cinematic way of saying to Kaufman, in the words of Latka, thank you very much.