2-minute drill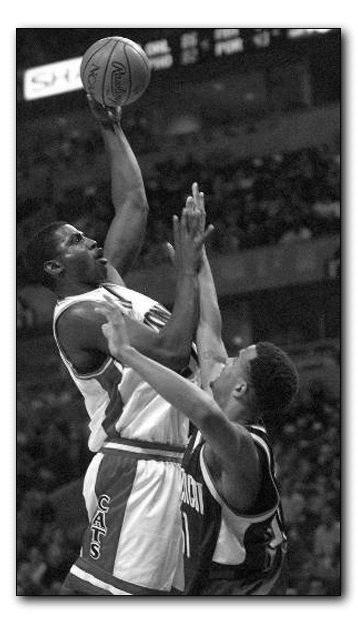 Associated Press
Arizona Daily Wildcat
Sophomore forward Michael Wright shoots over Connecticut's Edmund Saunders during the second game of the Great Eight Classic in Chicago last night. The Huskies handed Arizona its first loss of the season as they won 78-69.
CHICAGO - Just as Arizona looked to have the momentum to push itself past Connecticut, everything seemed to go wrong in the final two minutes.
Thanks to a 11-0 run in the dying minutes of the game, No. 6 Connecticut (6-1) handed No. 2 Arizona (6-1) its first loss of the season, 78-69, in the Great Eight Classic at the United Center in Chicago last night.
Junior center Loren Woods and sophomore forward Michael Wright had easy baskets to make it 62-61 in favor of UConn with 3:26 left, but just as the Huskies had done all game long, they made key baskets and forced turnovers, burying the Wildcats.
A short jumper and a three-pointer by Albert Mouring put UConn up 67-61, then UA sophomore forward Richard Jefferson missed a three-point attempt, allowing UConn center Jake Voskuhl to hit a mid-range shot as the shot clock expired.
If that wasn't enough, UConn forward Edmund Saunders' dunk off a stolen in-bounds pass made it 71-61.
"When we needed a basket, we came through, and that's what championship teams do," UConn's junior point guard Khalid El-Amin said. "I'm not saying we're going to make it to the championship, but that's what championship-caliber teams do."
Arizona was attempting to score in short spurts all night, something they have become accustomed to this season, but the Huskies made UA force a lot of bad shots and was able to halt any signs of a run.
"We were definitely trying to make runs," Woods said. "We're a team capable of making runs, but what can I say, national champs, they shut us down."
El-Amin also was able to hold freshman guard Jason Gardner to just nine points on 2-of-9 shooting, while he was 9-of-24 and 4-of-8 from the three-point arc for 23 points.
"I knew it was going to be a great battle," El-Amin said. "He's (Jason Gardner) a competitor, a little son of a gun, a true competitor."
Freshman guard Gilbert Arenas led Arizona with 18 points, but limped to the bench with 10 minutes remaining in the second half grabbing his hip. He returned four minutes later, but couldn't put Arizona on top. Woods also chipped in for 16 points and nine rebounds, but in the end, it all wasn't enough.
"I think this was a big test for us," Woods said. "Certainly, we have a tough schedule, but we're one of the best teams in the country and you wouldn't expect anything less."
Wright, a native of Chicago, had a double-double in front of the home crowd, scoring 14 points and grabbing 10 rebounds in one of the most physical contests he's seen in a long time.
Wright even hyper-extended his knee in the first half, but was able to return.