Who wants to be the president?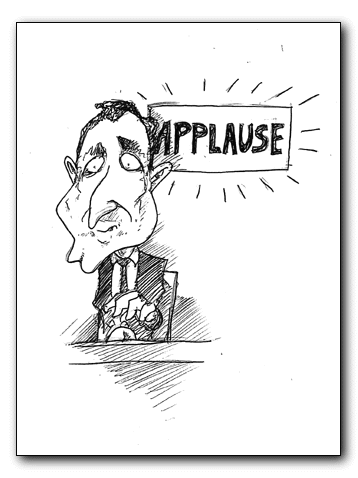 Arizona Daily Wildcat
A new TV Game show has swept the nation! Though they're known simply as presidential primary debates, its actual title is "The Primary Game." Each contestant (candidate for president) sells himself to various audiences he encounters, which includes framing himself as an extreme conservative or extreme liberal. The goal is to capture the grand prize - his party's nomination for president.
How do you know if you can hack it playing a game like this? The candidate to model your strategy after, folks, is the one who looks like he'll be the champion of the Republican team: Texas Governor George W. Bush. Though he seems to be a moderate Republican (and therefore the savior for the GOP that has been labeled extremist), he is an excellent contestant on "The Primary Game."
Bush could sell himself as a fascist or a communist and make either one sound tasty. Take, for example, his performance during a debate in South Carolina on Jan. 6, where he said it is the state's right to use the Confederate flag, a shameful symbol of racism and hatred, as its official state flag.
Bush's audience had marched in favor of keeping the Confederate flag flying on Jan. 9. Six-thousand South Carolinians had gathered to defend their right to keep their flag flying from their Statehouse dome, as it has been for the past 38 years. Naturally, Bush's conservative audience ate up his words with a ladle.
That's the key to winning each televised round of "debates," aspiring contestants: Don't say what you believe! Forget what you really stand for! The important thing is to make your audience think you're one of them, that even though you don't have a racist bone in your body, hell, you still support their state's right to display racist symbols!
Many South Carolinians claim that the federal government has no right to prevent a state from displaying whatever kind of flag it wants to, and therefore Bush is absolutely right. But certain powers of the federal government discredit this argument.
One is called a Desirable Government Objective (DGO). For the second half of the twentieth century, DGOs have included efforts by federal programs to redress America's gruesome history of racism in order to create a better and more fair society.
Also, the Supremacy Clause of the 10th Amendment to the Constitution gives the federal government clear superiority over state's rights whenever the two conflict.
Therefore, DGO + 10th Amendment = No Confederate Flags flying over a state capitol!!!
Bush, clearly not a scholar on what the role of the federal government actually is, overlooked these facts when he told the audience at the South Carolina debate that it was in fact fair and legitimate for them to wave this flag - a symbol of racism, a divided union, and slavery - freely and proudly.
Sadly, candidates like Bush become so wrapped up in winning that they lose sight of what they ought to be upholding.
Bush's appeals to the state of South Carolina may be necessary for him to win "The Primary Game's" grand prize: the GOP nomination for president. But, if he also wins "The General Election Game" this November, being a moderate Republican won't last long once the conservatives inside the beltway sink their claws into him. He'll be forced to do the same thing he's doing as a contestant on "The Primary Game:" appeal to the interests of the ultra-conservative special interest who got him elected.
There is no cash prize for the winner of "The Primary Game," no new car, no year of free steak dinners. The prize is a nomination, a chance to live in a big white home for at least four years, and the possibility of being hounded mercilessly by the pesky people who helped you get there. For his own sake, George W. Bush, Jr. ought to watch his mouth.
Sheila Bapat is a political science sophomore. She can be reached at editor@wildcat.arizona.edu.