New director takes UA Tree-Ring Lab into 21st century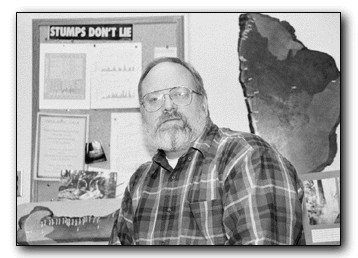 Matt Heistand
Arizona Daily Wildcat
Thomas Swetnam, new director of the UA Tree-Ring Laboratory, plans to make undergraduate teaching a larger part of the program. Swetnam is taking over the internationally-renowned program for Malcolm Hughes, who had been director for 13 years.
As the new director of the UA Tree-Ring Laboratory, Thomas Swetnam plans to bring the program into the 21st century by placing more emphasis on undergraduate teaching.
On Jan. 1, Swetnam took over for 13-year director Malcolm Hughes, who is leaving for a sabbatical in Russia.
Swetnam said he has many goals as leader of the internationally-renowned Tree-Ring Lab. His main focus will be for the lab to "play more of a role in undergraduate education."
He plans to continue teaching, but concedes that he "will have to rein in his teaching and research." He added that he enjoys teaching because of the interest students show in dendrochronology.
Swetnam hopes to build on the new university emphasis on interdisciplinary studies and said he will work closer with other natural science departments.
Swetnam, an ecologist who specializes in dendrochronology - the determination of natural historical events through tree-rings - joined the University of Arizona Tree-Ring Lab as a graduate student in 1980.
He is best known for his articles on giant Sequoia tree-ring history and determining relationships between El NiÛo and fires.
One of his most ambitious undertakings was when he studied fire history in California's Sequoia National Forest. Using tree-rings, Swetnam was able to determine historical events of the forest 3,000 years ago.
Dendrochronology is rapidly expanding, Swetnam said, and he hopes to maintain the UA Tree-Ring Laboratory's status as the international leader in the field.
Swetnam also said he plans to move the laboratory from the Arizona Stadium to another campus building. He points to the lack of storage space as a reason to move the offices. The lab has more than two million tree-ring samples.
Hughes handed power over to Swetnam on Jan. 1 to pursue a sabbatical in Russia.
"I credit him for sustaining the excellence of the lab," Swetnam said of Hughes, adding that he is "not anxious to live up to (Hughes') legacy."
The field of dendrochronology was pioneered by Andrew E. Douglass in 1929, when he and Emil Haury, an archaeologist, used a beam of wood from Indian ruins near Show Low to date the ruins to between the 11th and 13th Centuries.
Swetnam called this event "the greatest moment in Southwest history."
The UA Tree-Ring Laboratory was established by Douglass in 1937.
With a photo on the wall and the Douglass' original desk in his office, Swetnam said that he "stands upon the shoulders of giants" when talking of his qualifications for the job.
"I'm a home-grown product," he added.