Jefferson's air attack grounded for 8 weeks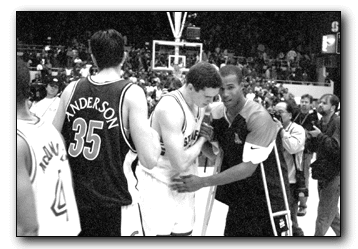 Arizona Daily Wildcat
UA sophomore forward Richard Jefferson is congratulated by Cardinal senior forward Mark Madsen after the 'Cats 68-65 victory Saturday. Jefferson fractured a bone in his right foot and will be sidelined for about eight weeks.
Picture this ...
A sure-fire Hall of Fame college coach known for his fantastic recruiting skills buys some television time on local TV stations asking for some players who can shoot, dribble, pass and endure the banging of Michael Wright, Loren Woods and Eugene Edgerson in practice.
While this may be a far-fetched idea, UA men's basketball head coach Lute Olson may not be ruling anything out after sophomore swing forward Richard Jefferson suffered a fracture of the fifth metatarsal bone in his right foot.
"There is no way of knowing how long it will be," Olson said of Jefferson's return to the rotation. "The best guess at this point is six weeks before he can do any weight bearing things and then after he is able to put weight on it, it is going to take time for him to get game ready, but I guess the educated guesses at this time would be eight weeks."
The Wildcats depleted rotation is now down to seven scholarship players and three non-scholarship walk-ons in senior Josh Pastner, junior John Ash and freshman Mike Schwertley, who is redshirting this season. Edgerson, a senior redshirt, is also available for practice.
Jefferson, who had started all 15 games for UA, was averaging 12.2 points, 4.9 rebounds and 2.1 assists per game before going down. He was also the team's leading three-point shooter (.452) and third-leading field goal percentage leader (.532).
Stepping in to fill Jefferson's role in the starting lineup will be his roommate, Luke Walton.
Walton, a redshirt freshman, played well enough Saturday to keep Stanford at bay and helped UA to a 68-65 victory.
In 32 minutes, Walton scored just two points, but dished out seven assists and only turned the ball over twice. For the season, Walton is averaging 2.7 points, 3.1 rebounds and 2.1 assists per game.
"It will be a new challenge for me and it is a great opportunity and I am just going to try to do my best with it," Walton said of his new role in the starting rotation.
"We bring different things to the table, we are going to miss Richard's scoring and his athletics, getting the rebounds. He is a great player, but I am just going to try and bring my own stuff to the table to help the team."
Jefferson's scheduled rehabilitation process is expected to come to a close in the beginning of March, just in time for him to try to exact some revenge on California and Stanford on March 9 and 11 at McKale Center.
But, maybe more importantly, his return will be just in time for the NCAA Tournament.
"I'll be out for a few months, but I will be back by the end of the Pac, in tournament time," Jefferson said. "Am I worried? No, we proved we could beat the number one team in the country without me."