'Cats fall in Sweet 16; finish season No. 14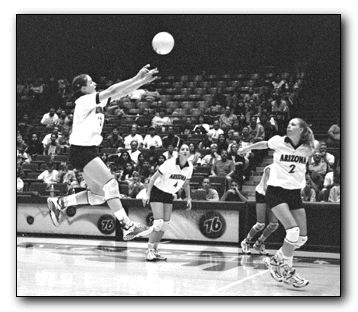 Aaron Farnsworth
Arizona Daily Wildcat
UA sophomore Dana Burkholder sets the ball to teammate Erin Sebbas, a sophomore middle blocker during a recent game at McKale Center. The women's volleyball team finished the season ranked No. 14 after reaching the Sweet 16 with tournament victories over Virginia and Texas.
Losing to Stanford for the third time in a season was certainly not a highlight for the UA women's volleyball team.
However, considering that the loss came in the Sweet 16 of the NCAA tournament, head coach David Rubio and his players have reason to be proud of their season and optimistic about next year's team.
"We're very close to being a Final Four team...," Rubio said.
Arizona, which finished conference play with a 12-6 record for the third consecutive season, started strong in the Dec. 9 game at Stanford. Up 12-1, however, the team lost freshman outside hitter Lisa Rutledge to a sprained ankle.
"It was exciting to get back to the Sweet 16, but it was disappointing that (she) got injured," Rubio said.
The 'Cats went on to win the first game 15-6, but lost the next three, 6-15, 7-15 and 7-15. Arizona finished the season ranked No. 14, while Stanford advanced to the championship match where they were defeated by Penn State.
"It was disappointing to lose when we knew that we had such a good chance to beat them," Rutledge said.
Sophomore setter Dana Burkholder paced the team with 49 assists and senior outside hitter Raelene Elam had 15 kills.
Arizona advanced to the Sweet 16 by sweeping Virginia and then No. 15 Texas.
Elam is the only player the team is losing to graduation, so Arizona has a legitimate chance of improving on this year's season in which they finished fourth in the Pacific 10 Conference.
"We're hoping for the Final Four - definitely," Rutledge said.
Burkholder and junior middle blocker Marisa DaLee were named to the All-District 8 volleyball team, which is composed of players from the Pac-10, West Coast Conference and Big Sky Conference.