A flash flood of UA creativity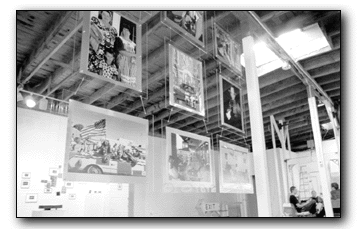 Kristy Mangos
Arizona Daily Wildcat
"The Other Observation," a series of hanging color prints by Kari Alter, is displayed yesterday as part of the "Flashflood: Photographic Endeavors" show currently held at the Moca/Hazmat Gallery. The show consists of work by fourteen artists and continues through Saturday.
As the old adage decrees, "If you want something done, you've got to do it yourself."
This is something that the members of Flashflood, a University of Arizona artistic group comprised of 14 photographers, know all too well.
A lack of student artistic representation and a common interest for showcasing local emerging Tucson artists sparked the creation of the group, which seems to have adapted the proverb into a group mantra.
Flashflood's members, who all currently attend or have recently graduated from the university, are offering Tucson a chance to explore all the creativity they have to offer - on their own terms.
"Flashflood: Photographic Endeavors" is the premier exhibition from the group, and is made up of a diverse selection of artistic talent, rooted in, but not limited to, the photographic medium. The exhibition, being held downtown at the Hazmat/Moca Gallery, 191 E. Toole Ave., began its run on Monday, and ends Saturday with the closing print sale.
Lynn Turner, photography senior and emerging Tucson artist, stresses the importance of student artistic representation, something that is showcased by her and the other members of Flashflood.
"There aren't a lot of photo galleries in Tucson open to emerging photographers," Turner said.
Flashflood, formed about nine months ago, offers a counter-narrative to this problem, allowing the spotlight to be "directed toward student artists and their creative talents," she said.
The current exhibit includes traditional photographic prints, artists' books, mixed media installation and a variety of experimental photographic alterations, all of which were created by the hard work of Flashflood.
The run of the exhibition also includes a series of special events. Last night's features included a performance by photography professor Ken Shorr. In addition, fiction and poetry readings by Scott Topper, who works for the UA English department, and Roxane Ramos, who works for the Center for Creative Photography were presented.
Tonight at 8 the exhibition will feature an experimental film and video screening, and tomorrow evening will feature the opening reception celebration, including live music by local DJs Incizer and Dulce.
Flashflood has decided to take matters into their own hands, and the result is a collaborative artistic endeavor, focusing on the talents of UA students and alumni.