Sticking it to them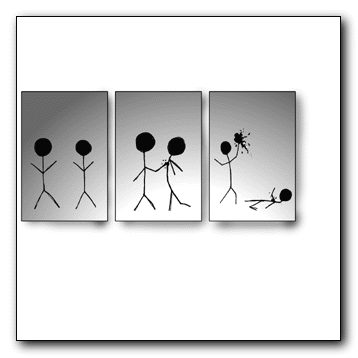 Arizona Daily Wildcat
In an age of high technology, rampant computer animation and smaller funding for arts education, backlash from the truly talented is guaranteed.
Hence, stick-man artist extraordinaire Matt Calvert has created the Stick Figure Death Theatre, located at www.sfdt.com. Calvert began the site last year after years of doodling in notebooks produced ample volumes of stick figure action.
Of course, none of these fit in the happy-go-lucky 'See Dick, See Jane' category - the site's animation is devoted to bizarre stick figure death scenarios. Viewers can watch as stick figures die in circus accidents, beheadings, electricity mishaps and incidents with ever-dangerous 'slippery things.'
Some of the best shorts on the site involve famous people and various movie-related demises. For those confused about the subtle messages in Arthur Miller's 'Death of a Salesman,' the play's more overt implications come to life when a stickman is crushed by a large anvil.
Another celebrity-infused short features a crossover between 'Armageddon' and the much-parodied 'Titanic.' Here, poor Jack and Rose fall victim a giant meteor - not an iceberg. Unfortunately, there are no references to sappy Celine Dion.
While the site is certainly entertaining, it also provides important tutelage for others. Aspiring stick figure animators can receive valuable tips on creating avant garde cinematic productions, and the computer illiterate learn the inner workings of gif files.
The site has been named one of the Top 50 Animated Death Sites, and links to new movies are being added almost every day. The site is a great source of cheap entertainment and hours of procrastination for any art lover.
Rebecca Missel can be reached at catalyst@wildcat.arizona.edu