March reminds of MLK's vision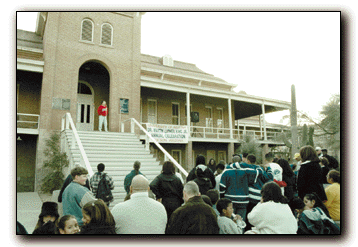 Aaron Farnsworth
Arizona Daily Wildcat
University of Arizona president Peter Likins speaks out to marchers Monday morning at the Millennium March at Old Main. Others speakers included Tucson mayor, Bob Walkup and a Martin Luther King Jr. reenactment by local elementary students.
Admitting that the past holds notice of positive efforts made by blacks and whites to eliminate racial discrimination, participants in the UA co-sponsored Martin Luther King Jr. Millennium March agreed that America has taken several steps in the direction of racial equality - but the journey isn't over.
"Martin Luther King Jr. had a lot of passive resistance ... physical presence of people is how it was originally done," said Carlos Reyes, UA psychology senior. "This walk is a symbolic demonstration - a dramatization."
Escorted by dozens of Tucson Police Department officers, about 250 participants walked the three mile route yesterday from the University of Arizona's Old Main fountain to Reid Park, 900 S. Randolph Way.
"This march serves to remind people of what they fought for, and it is more appropriate that we march on a university because they fought for us to be here," said Tamara Mulembo, English and Spanish sophomore.
"It's nice to see people other than blacks care about Martin Luther King's cause," she said.
From small children in strollers to people in wheelchairs, UA and Tucson community members engaged in the 15th annual, city-wide walk. Many participants said it was a symbolic re-enactment of the Aug. 28, 1963 March on Washington in honor of King's efforts to eliminate racism.
"He stands tall among all of the leaders of all the world - he led us all to freedom," said UA President Peter Likins to a crowd of participants before the walk began. "He's a man to remember, but our children don't remember him so that is why we are here today ... to remind them of the human struggle."
Alex Wright, director of the UA African American Student Affairs Center, said the center has been a sponsor of the march for about seven years.
"The committees are trying aggressively to bring about awareness, justice and equality to make Martin Luther King's dream (come true), to alleviate hate and to remind us we have a long way to go," Wright said.
Although King's hopeful conception of the day when his children would not be judged by the color of their skin but by the tones of their character continues to be honored, a few participants said they believe all efforts would be forgotten in one week's time.
"Every year we have one day - finally, Arizona is celebrating the movement - but as for next week, there may not be any continued action to make us aware," said Veronica King, member of National Society of Black Engineers.
King said people tend to get excited about certain events - become engaged in the moment - but once the excitement dies down, the movement must start all over again.
Katy Ewing, music freshman, said she also feels that continued desire and strong activism are missing, but diverse and collective efforts such as the march are still important.
"I think the greater part I see is people are losing interest but (activities) like this are very empowering," Ewing said. "This is wonderful because the walk is a great way to get people together - this is better than a seminar."
Reyes, who emphasized the importance of non-violent action, said the walk "gives more people a chance to participate so people are actually doing something" which, he said, is what King intended.
King's message must be spread to others who may not be aware, said Maria Otero, pre-education junior, because his dream was meant to endure and to outlast racism.
"I think it's important that we keep doing activities like this because not only people who are involved, but the people who see us marching will want to know what we're marching for," Otero said.
Speaking over a harmonious sound of walkers singing "We Shall Overcome," Bill Conley, NSBE member, said the walk is "move supportive and acknowledging of the past."
"Some people think of Martin Luther King Day and just consider it a day off of work, but if I am going to take off I am going to support ... to exemplify (King's) message because that is why we have so many opportunities today."
Arvin Poole, chairman of NSBE, agreed with Conley, adding that "we need to give one day back to him for what he's done, and it is done in a subtle way."
La Monica Everett-Haynes can be reached at city@wildcat.arizona.edu.