Woods, Griffith bring home Player of the Week awards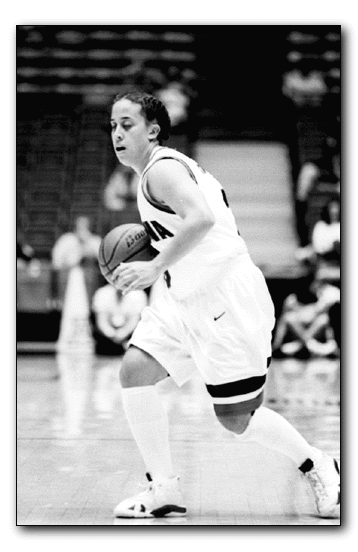 Matt Heistand
Arizona Daily Wildcat
UA senior guard Lisa Griffith pushes the ball upcourt during a recent game at McKale Center. Along with junior center Loren Woods from the men's team, Griffith was named the Pac-10 Player of the Week after her strong performance against Washington and Washington State.
For the second time in the 1999-2000 college basketball season, a player from both the UA men's and women's squads earned the honor of being named the Pacific 10 Conference's player of the week on the same day.
Sophomore forward Michael Wright and senior forward Tatum Brown both won the award on Dec. 6, 1999 and now junior center Loren Woods and senior guard Lisa Griffith can boast the same accolade.
After scoring 47 points, grabbing 17 rebounds and blocking 15 shots - including a school-record 10 against Washington State on Thursday night - Woods was a sure-fire winner for award this week.
"I am just back in game shape now," Woods said following the 69-62 victory over Washington on Saturday night. "Coach told me at the beginning of the season that it would probably take five to 10 games before I would get back to playing as well as I should be playing, and you know, that's what has happened."
Due to the limited lineup, Woods was also forced to play an average of 38.5 minutes in the two games, shooting 16-of-36 from the floor and 15-of-19 from the free throw line.
"Mike (Wright) and I can run the floor for 40 minutes," Woods said. "I don't think a lot of teams in the country want to go up and down with us."
Griffith was the catalyst in leading the UA women's hoops team to its first-ever road sweep of the Washington schools over the weekend as she averaged 20 points, four assists and 2.5 steals per game.
The stat of the weekend for Griffith was her uncanny accuracy from behind the three-point arc - shooting 61.1 percent (11 of 18) over the weekend. In the win against Washington - UA's first ever in Seattle, - she tied a school record with seven three-pointers, while also moving up to the No. 6 spot on UA's all-time scoring list with 1,084 career points.
"Lisa came out of the gates really hot by hitting seven of 10 from outside," associate head coach Denise Dove-Ianello said. "Our offense was being patient and worked for the open shot, so when they found Lisa behind the three-point arc, she was just not missing. It was good to see it out of her."
The Player of the Week honor is the second of Griffith's career (Feb. 17, 1997) and first of Woods' short career at UA.