Wildcats put collar on Dawgs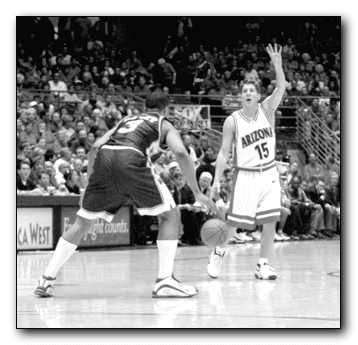 Nicholas Valenzuela
Arizona Daily Wildcat
UA senior guard John Ash runs the offense during Saturday night's 69-62 men's basketball victory at McKale Center. Filling in for regular starter Jason Gardner, Ash became the first walk-on player to start a game since 1982.
Even high-profile student-athletes have to wait in line when it comes to adding or dropping a class. Freshmen guards Jason Gardner and Gilbert Arenas learned this the hard way.
Gardner was trying to get into the same class as Arenas, and the lengthy lines that extend outside the Administration Building caused them to be late for practice on Friday.
UA head coach Lute Olson disciplined the two by sitting them on the bench Saturday night, allowing junior guard John Ash to be the first walk-on starter for Arizona since 1982 in the team's 69-62 victory over Washington at McKale Center.
Arizona improved to 15-2 overall and 4-0 in the Pacific 10 Conference.
"I wasn't nervous at all, I was just really excited," Ash said of his nine minutes of play. "I just wanted to go out there and run the offense, and if I had an open shot or good look, I was going to shoot the shot. If that didn't happen, I was just going to try and run the team."
Olson was pleased with how Ash handled the pressure and how Gardner and Arenas responded to entering the game midway through the second half.
"You don't often see that from younger players," Olson said.
Gardner finished with 15 points and Arenas with 10.
Junior center Loren Woods, who was named to the Pac-10 Player of the Week, led the Wildcats with 22 points, 11 rebounds and five blocks. Sophomore forward Michael Wright chipped in 16 points and 12 rebounds.
"I'm just trying to come in and establish the other block, and we're just playing great together," Woods said. "Mike's looking for me and I'm looking for him, and we're probably the best four-five combo in the country."
The Huskies ran three guards and no true center most of the game, so Arizona had a big advantage down low. Against Washington State on Thursday, the Wildcats often overlooked this match-up problem, but banged down low against Washington.
Washington forward Chris Walcott finished with 16 points, but was overwhelmed by Arizona's frontcourt.
"(Loren's) got a big body, but what's different about him is that he runs the court better than most big men," Walcott said. "He's a great player and will do great things in his career."
Washington senior guard Deon Luton came in averaging 16 points per game, but shot 3-for-19 from the field for 10 points. Guard Senque Carey had 16 points in the losing effort.
As a team, Washington was held to 33.3 percent shooting. The Huskies were 9-for-23 from three-point range, but 7-for-12 in the second half.
"We were consistently tough on defense for the whole game," Olson said. "We were able to get some good pressure on them even though Washington shot the three awfully well."