Heavy metal band asks Braves to stop using their song to introduce Rocker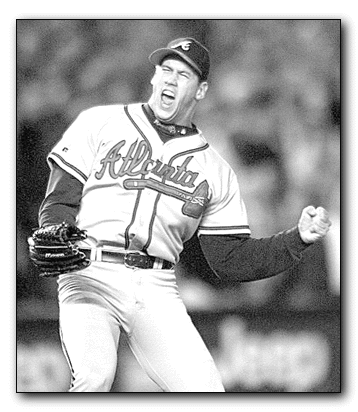 Associated Press
Arizona Daily Wildcat
Rock band Twisted Sister asked the Atlanta Braves to stop introducing pitcher John Rocker with their song, "I Wanna Rock." The band made the request in response to comments he made recently in Sports Illustrated about immigrants, homosexuals and minorities.
Associated Press
ATLANTA -ØMembers of Twisted Sister, protesting the John Rocker's comments disparaging gays and minorities, asked the Atlanta Braves to stop using their song ''I Wanna Rock'' to introduce the reliever.
''We've got Hispanics in this band, Italians in this band, people who are Polish and Russian,'' said guitarist Jay Jay French, the heavy metal band's co-founder. ''We're all immigrants, all foreigners - quote unquote - and this is our way of saying his comments were not acceptable.''
Later Monday night, presidential candidates Bill Bradley and Vice President Al Gore criticized Rocker's remarks during the Democratic debate in Des Moines, Iowa.
''I don't know John Rocker and I don't want to know John Rocker,'' said Bradley, a former NBA star. ''But I do know one thing: This would not have happened had an organization and a team (been) attuned to the kind of things that he said.
''When I was on the Knicks, one of my jobs was when there was a white player that came on the team who didn't quite understand - used the wrong words ... I took him over to the side and said, 'Look, that doesn't work on this team. If you want to be on this team, you respect everybody,''' he said. ''If that had happened on the Atlanta Braves, you wouldn't have had John Rocker.''
Said Gore: ''I, first of all, think what he said was reprehensible and disgusting. And I condemn it without any reservation, of course.''
In an interview in Sports Illustrated, Rocker said he would never play for a New York team because he didn't want to ride a train ''next to some queer with AIDS.'' He also bashed immigrants, saying ''I'm not a very big fan of foreigners. ... How the hell did they get in this country?''
Rocker later apologized and in a subsequent interview with ESPN said his comments were in retaliation for verbal and physical abuse he said he received from New York Mets fans during the NL Championship Series.
New York-based Twisted Sister is best known for its 1984 hit single ''We're Not Gonna Take It.'' The song's video featured lead singer Dee Snyder and other band members wearing garish makeup and wild hairstyles.
French, 42, said he still legally represents the band and that all its members were in agreement over the action.
He said he told his record label, Atlantic Records, the band didn't want the song used in conjunction with Rocker and left a message with Braves spokesman Jim Schultz. French would not speculate on what he would do if the Braves continued to use the song, written by Snyder.
Schultz did not return a telephone call seeking comment.