Gossamer workshop finding way to make record-sized telescope reality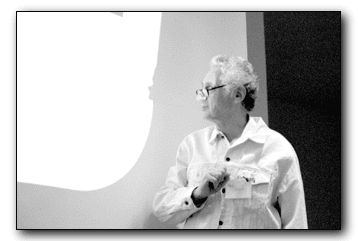 Matt Heistand
Arizona Daily Wildcat
Nick Woolf of the University of Arizona Steward Observatory speaks during the Gossamer Telescope Conference Monday afternoon in the Plaza Hotel Conference Room. The telescope is expected to be about the length of a football field, and weigh less than a bow of paper clips per square meter.
As scientists brainstorm ideas on how to make a proposed Gossamer telescope fly by 2020, Art Chmielewski from the Jet Propulsion Laboratory conceded that "all proposals have serious challenges."
About 60 scientists from all over the country are meeting this week at Tucson's Plaza Hotel to come to an agreement on how to move forward in making the proposed telescope a reality.
Scientists from JPL, Gossamer, NASA, the University of Kentucky, and various other institutions pitched concept ideas and participated in a workshop during the event, which runs through Thursday.
The telescope, which experts concede could be a physical impossibility, is expected to be about the length of a football field, and weigh less than a box of paper clips per square meter.
One concept discussed, which speaks to the issue of weight, calls for an innovative thin film mirror to be used. Some of the issues with regard to the usability of this mirror are not the weight, but rather the image quality and size, said UAT scientist Rodney Bradford.
Chmielewski, who told the audience that no material currently known to man can make this project a reality, said the scientists need to be realistic.
"A shell of 40 meters and 1 millimeter thickness, will weigh about 4 tons," he told the group of scientists on Monday.
Currently, he added, "we ain't got no materials."
A joint national effort between industry and science is desperately needed to get the project off the ground, he said.
To the question of testing the telescope, Chmielewski said a series of space experiments are needed.
"It's okay to fail, but criminal not to know why (the project failed)."
Traditionally, NASA tests projects on Earth. Chmielewski said that idea would not fly.
"You can cover the Rose Bowl (with the telescope), but then what would happen to our soccer matches," he added.
Chmielewski added that "a serious telescope program," which would cost millions of dollars, is needed.
If the telescope becomes a reality, it would be part of NASA's new "faster, cheaper, better" approach.
The Hubble Space Telescope, which was built before NASA implemented its new approach, has cost NASA more than $3 billion so far, Nick Woolf of the University of Arizona Steward Observatory stated in a news release.
In contrast, the Next Generation Space Telescope, which is will be launched in 2008, is expected to cost about a third of the Hubble Space Telescope, Woolf said.
Some of the major questions being tackled this week at the workshop are: "How can we afford such enormous space telescopes? How can we make them? How can we test them before launching them?" stated Woolf.
The proposed telescope is expected to "observe more than 200 Earth-like planets," he added.