Just not fitting in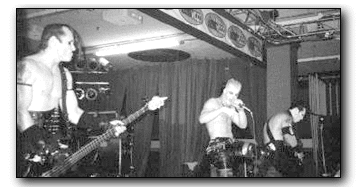 Arizona Daily Wildcat
Photo courtesy of http://misfits.revhg.com The Misfits, shown here in one of their notorious club shows, will be playing tonight at the Rialto Theatre, 318 East Congress. This may be the band's final Tucson show.
The lives of punk rockers are often considered synonymous with insobriety, anarchy and a host of other anti-establishment ideas.
However, if the punk rockers happen to be The Misfits, the typical punk rock lifestyle changes dramatically. As one of the pioneer punk bands of the 1970s, The Misfits have seen a host of changes during its 23 year long career.
"We were in the gym all day yesterday, and we'll be going back later today," said Jerry Only, bass player and founding member.
Not only have The Misfits deviated from the stereotypical punk rock lifestyle, but they helped create a new music scene that has influenced popular acts like White Zombie, NOFX and Metallica. This music style centers around science-fiction and horror.
"A love story is always fun, but singing about monsters provides more entertainment," said Only. "There's always been an endless supply of horror flicks. When you write about politics and social values, it ends up being redundant and unrelatable.
"When singing about monsters, everybody can have fun. We can write a song like (play) 'Phantom of the Opera,' which was created in 1919, and people still relate," Only added.
With their latest album, Famous Monsters, the band has obviously stayed true to its horror and science-fiction based music.
"We've kept to what we've always done," said Only. "I think the album is great. It is exactly what we wanted. We haven't changed our style that much, but we are definitely better than when we started."
Although they were not the first recorded punk rock musicians, The Misfits have added an edge to a genre that some consider primitive.
"We have taken the sounds of the Ramones and the Clash, but we've taken it to the next level," said Only. "We are the only band to insert harmony into the (punk) music."
Only said the band's unlikely musical influences started at an early age. While bands like the Ramones and GenX, as well as musicians such as Iggy Pop, led to the band's punk-rock style, Only said his parents musical taste played an important role for both him and his brother, Misfits guitarist Doyle Wolfgang Von Frankenstein.
"When we were younger - and I'm talking about when we were four and five years old - we listened to my parents records," he said. "They listened to oldies, especially Chuck Berry. We have a solid rock and roll origin."
Only added he still holds firm to his Motown musical roots, especially when sifting through the current music scene.
"When I'm driving in the truck, I always search for the oldies stations," he said. "I haven't found much else to listen to."
Initially formed in 1977, Only said the young band found it difficult establishing their niche in the dominant style permeating from the New York music scene. In an effort to distinguish themselves from the rest of the scene, they turned to their own interests for inspiration.
"In the 70s, the first thing we tried was the New York beatnik scene," he said. "We found out that we just didn't fit in. We asked ourselves 'What do we like?' We were all horror buffs, so it made sense."
Only also said there is a common misconception by fans who envy the band's past.
"You hear everyone say 'Man, it must have been great being a punk band in the 70s.' Well, no it really wasn't. It was hard work," he said.
Although their music is often covered by other bands, such as Metallica, Only said the extra exposure does not necessarily translate into extra revenue.
"I like Metallica, and it is nice that they are covering our songs," he said. "I always get a little miffed when they mention us, though. If they really appreciated us, then they would take us on the road with them.
"When they have Ugly Kid Joe open, or what ever that 'Joe' band is, you have to ask 'What's going on?' Is it because of money? Is it politics?" said Only.
Only added that despite the band's lack of success in the popular music scene, their strong fan base stretches coast to coast.
"We have a very loyal following nationwide," he said. "We've done everything that we have wanted to do."
Only said that while The Misfits are content with their musical strength, he wants to explore other media avenues. Not only is the band showcased on toy store shelves; Only has participated in the increasingly popular World Championship Wrestling.
"Those toys are the best thing on the market," he said. "We don't make a dime off them, but it is more of a prestige thing."
"I'd like to get more into the wrestling more than the music," Only added. "Playing at an arena in front of a sold out crowd is what I always wanted to do. The only difference is that there is no guitar in my hand."
Only said the band will put out one more album before retiring. He said there are a number of reasons for this, but family issues remain an important factor - providing an interesting perspective from the punk rock pioneers.
"I have a daughter in college, and a son who is a freshman in high school, so we can't be just playing small venues all the time," Only said. "I'm at a point where my children are outgrowing my house, so I need to think of the bigger picture."
No Misfits profile is complete without mention of co-founder and former lead singer Glen Danzig. The band struggled for nearly a decade for the rights to the Misfits moniker. Despite the difficulties, Only said the band and Danzig have eased into a kind of understanding.
"I have no problem talking about Glen," said Only. "He's done some solo things like 'Mother' that were on the radio, but the Misfits cast a long shadow from the past. He's learning that he is not bigger than that shadow, which is something that I am trying to be. He used to be ready to kick someone's ass when they even mentioned the band, but he's talking about it now (The Misfits).
With the impending demise of one the longest-running and most influential punk acts, the opportunity to see this band is slowly dimming.
In what may turn out to be the final Misfits concert in Tucson, the band is playing tonight at the Rialto Theater, 318 East Congress,
Fellow New York punk rockers Indecision will open the show along with Tucson band Malignus Youth.
Ty Young can be reached at catalyst@wildcat.arizona.edu.