Starting lineup takes form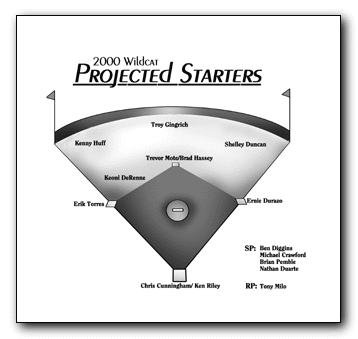 Wildcat File Photo
Arizona Daily Wildcat
After months of speculation, the starting lineup for the 2000 baseball team seems to be shaping up.
Junior Ernie Durazo figures to be the Wildcats' starting first baseman. Durazo's .993 fielding percentage was the highest for a UA first baseman since 1983.
Second base appears to be up for grabs, but the job will ultimately end up in the hands of junior college transfer Trevor Mote or sophomore Brad Hassey, who is recovering from torn ligaments in his thumb.
Shortstop is one of the two positions already set in stone, as preseason All-American Keoni DeRenne will return for his third season as a Wildcat. At third base, junior Erik Torres looks to be getting the starting nod.
The outfield will most likely be led by center fielder Troy Gingrich, who returns for a third season in the UA outfield and has also been ensured a starting role. He will be surrounded by sophomore slugger Shelley Duncan, who will occupy right field, and sophomore Kenny Huff, who hit .375 last season with runners in scoring position.
Behind the plate, the Wildcats will likely employ a combination of freshman Ken Riley and sophomore Chris Cunningham. Riley, who played his high school ball at Reed HS in Sparks, Nev., is known to have the better arm of the two. Stitt claims that Riley is "just a freshman and will hit eventually."
The Wildcats' fortunes likely will hinge on the success of their pitching staff. With the departure of 1999 ace Josh Pearce, sophomore Ben Diggins will look to assume the role as UA's No. 1 starter. Diggins will also be employed as a backup first baseman and designated hitter as the season progresses.
He will join senior pinpoint-artist Michael Crawford who, as a junior, faced 84 consecutive batters without allowing a single walk. The third spot in the rotation will likely go to sophomore Brian Pemble or junior Nathan Duarte. Both are southpaws and should help the Wildcats improve on last season's ERA.
Tony Milo should start the season as the team's closer. Milo, who was drafted by the New York Mets out of high school, led UA with four saves in 1999.
The team's roster will truly represent the state of Arizona this season.
Twenty-eight of the 36 players listed on the this year's roster hail from the Grand Canyon state.
Of those 28 players, half are from Tucson. The other 14 players are from anywhere from Phoenix, home of freshman pitcher Klent Korley, to tiny Superior, home of junior pitcher Nathan Duarte. Only two players come from California - sophomore catcher Chris Cunningham and senior outfielder Rafell Jones.
Two players, senior pitcher Rob Shabansky and freshman catcher Ken Riley, are from Nevada. Keoni DeRenne, a preseason All-American shortstop, hails from Honululu, Hawaii.
What makes Arizona a baseball hotbed?
Tucson's pleasant weather, ideal for year-round baseball, is the main reason why Arizona's seem to have an advantage over some athletes from cold-weather regions. USA Baseball recently moved its headquarters from Colorado Spring, Colo., to Tucson.
Shabansky, a left-handed pitcher, is coming off what could have been a potentially career-ending injury. The six-foot senior underwent Tommy John elbow surgery last spring following just one pitching appearance for the 1999 season.
Named after the former Dodger pitcher, Tommy John elbow surgery requires the replacement of elbow ligaments with those from another part of the body.
Despite the injury and subsequent recovery, Shabansky is more worried about the upcoming season than his story.
"It's going to be a lot harder this season," Shabansky said, referring to the team's schedule. "But I expect us to win. We have a chance to win some ballgames."
Shabansky was 5-1 with a 3.35 ERA in 1998.
UA head coach Jerry Stitt is optimistic that Shabansky will return to his previous form.
"Shabansky tells us he's doing fine," Stitt said in an interview with the UA sports information department.
"We don't want him to rush it. If he really tries to accelerate his rehab, he might get in trouble. We would be real pleased if he came back in time for conference play."