Knight, Hoosiers outlast former Indiana star, Iowa in grudge match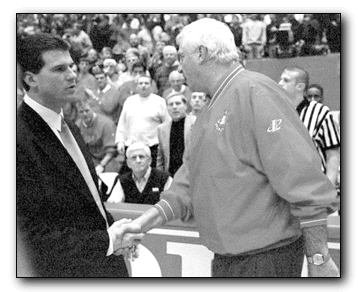 Associated Press
Arizona Daily Wildcat
Indiana coach Bobby Knight, right, shakes hands with Iowa coach Steve Alford, left, after Indiana came from behind to down Iowa, 74-71 in Bloomkington, Ind., yesterday. Alford played for Knight and won an NCAA national championship in 1987.
Associated Press
BLOOMINGTON, Ind.-By halftime, Steve Alford had gone from returning hero to just another coach trying to beat the home team. By game's end, coach Bob Knight's Indiana Hoosiers had just enough to beat Iowa 74-71 last night.
Alford, one of the greatest players in Indiana history, returned to Bloomington for the first time as coach of Iowa. He and Knight patched up a year-long rift, exchanged handshakes before the game and the fans gave Alford a standing ovation.
At the end, the cheers were for Kirk Haston and A.J. Guyton, who scored 25 and 20 points for No. 11 Indiana (14-2 overall, 4-1 Big Ten)
There were 10 lead changes in the second half before a basket by Guyton put Indiana ahead for good at 66-65. The Hoosiers pushed the lead to six points before a free throw and 3-pointer by Dean Oliver pulled Iowa (7-9, 1-4) within 73-71.
Lynn Washington finished Indiana's scoring with a free throw with two seconds to go, and a 3-point attempt by Iowa's Rob Griffin at the buzzer was off the rim.
It was the first trip back to Assembly Hall as an opponent for Alford, a two-time All-American who led the Hoosiers to the 1987 NCAA championship. Alford met briefly with Knight before the game, their first conversation since he was hired at Iowa in March.
The former Hoosiers hero was greeted by loud cheers from the crowd of more than 17,000. After player introductions and a pre-game handshake with Knight, it was all business.
With the dapper Alford crouched or standing in front of the Iowa bench, a mere glance over his right shoulder away from Indiana's five big red NCAA championship banners, the Hawkeyes stayed close the entire game.
Indiana never led by more than three points in the first period and fell behind by as many as six following an eight-point run by Iowa. A 3-point basket by Kyle Galloway and two baskets and a free throw by Rod Thompson put the emotion-charged Hawkeyes ahead 25-19.
In contrast to Alford, Knight rarely rose from his chair and sat almost expressionless while the Hoosiers began hitting their shots, slowly working their way back into the game.
A basket by Michael Lewis, a 3-point play by Haston and a 3-point basket by Luke Jimenez off an assist by Lewis put Indiana ahead 27-25 with under three minutes to go, and there were two ties before a basket by Larry Richardson gave the Hoosiers a 32-30 lead at halftime.
Iowa's leading scorer for the season, senior Jacob Jaacks, had only two points in the first half and heard boos from the crowd every time he touched the ball. Last year, pressured by Jaacks on an inbounds play, Lewis threw the ball into Jaacks' face to avoid a five-second penalty. No call was made against Indiana, but an Iowa assistant was given a technical foul after he stormed out of his chair.
There was no call this time, either, when Jaacks flung an elbow in Haston's face late in the game.
With Jaacks still defended well by Haston, Indiana began pulling away early in the second half, but it didn't last long. After two baskets by Guyton and one by Haston put the Hoosiers ahead 40-32, an 11-2 run capped by Oliver's 3-point play gave the Hawkeyes the lead once more and had Knight pacing the sideline.
The Hawkeyes built the lead to 57-51, but Guyton and Haston combined for 19 of Indiana's next 23 points.
Oliver led Iowa with 24 points and Griffin added 18. Jaacks finished with nine points before fouling with two seconds to go.