Aggressive UA defense keys big Pac-10 win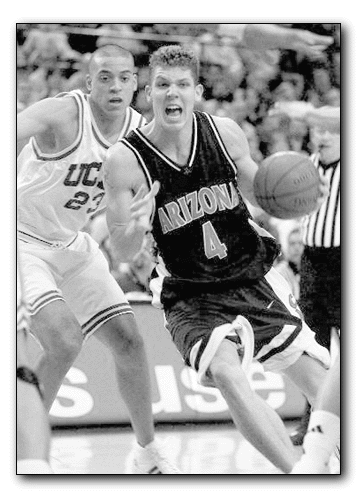 Associated Press
Arizona Daily Wildcat
Luke Walton drives to the hoop during the second half of last night's victory over UCLA. Led by strong second-half performances from freshmen Gilbert Arenas and Jason Gardner, the Wildcats defeated the Bruins 76-61.
LOS ANGELES - Arizona knew that if it shut down UCLA's outside game and stayed patient on the offensive end, it might escape with an important road victory.
What the Wildcat's didn't expect was to do both so successfully and leave with its largest victory margin ever against UCLA at Pauley Pavilion.
Thanks to aggressive defense and poise down the stretch, No. 2 Arizona (16-2 overall, 5-0 in the Pacific 10 Conference) knocked off No. 25 UCLA (10-5, 1-3) 76-61.
Sophomore forward Michael Wright led Arizona with 22 points and eight rebounds, but it was the patience and confidence of freshmen guards Jason Gardner and Gilbert Arenas, who scored 20 points and 18 points, respectively, that helped the Wildcats pull ahead and keep the lead.
Arenas admitted he was nervous before the game, but said a handshake from former UCLA and NBA star Bill Walton at halftime gave him a hot hand. The luck rubbed off, and Arenas' nerves turned into confidence.
"Oh my God!" Arenas said. "I was telling Luke, 'I shook your dad's hand, I shook your dad's hand!'"
After scoring three points in the first half, the North Hollywood, Calif., native shot 6-for-9 from the field in the second half.
Arenas added three steals that helped Arizona run the transition offense and build a 15-point lead with six minutes to go in the game.
"It was different," Arenas said. "You always see UCLA play on TV, and you always wonder, 'Man, I wish I could play there'. Tonight I got my chance."
Not only was Arenas attacking the basket aggressively, he was putting a strangle-hold on Bruin sharp-shooter Earl Watson on the defensive end. Watson finished with 12 points, but was 0-for-6 from behind the three-point arc.
When UCLA looked like it was making a comeback late in the game, Gardner maintained his and the team's poise. After hitting clutch free throws down the stretch at Stanford Jan. 8, Gardner shot 10-for-13 from the free throw line against the Bruins.
"Gilbert in the second half was as close to perfect as you can be," UA head coach Lute Olson said. "I don't think you can find two freshmen who played better in a tougher situation. And I'm talking about anywhere in the country, not just this league."
Jerome Moiso led the Bruins with 22 points, and his quickness gave Arizona difficulties down low, especially in the first half. As the game progressed, UCLA was reluctant to attack the basket and tried shooting the outside shot.
UCLA finished just 3-for-21 from three-point range and had only four free throw attempts, making two of them. Chalk that victory up to Arizona's hard work on the defensive end of the floor.
"We were just playing tough, physical defense," Wright said. "That's what the coaching staff tells us. They teach us not to foul, just hold up your hands and body them up."
UA freshman forward Luke Walton didn't score any points, but again did the little things to help Arizona win. The little things included playing strong defense, diving for loose balls and making key passes down low that resulted in easy Arizona baskets.
If that wasnĮt enough, Walton had to do it in front of a large group of family and friends, which included his father who watched from press row.
"He used to watch me play in high school, so I'm used to that, it's just a little bigger setting," Luke Walton said. "He's been giving me a hard time, so I'll let him say something before I rub the victory in."