Students Last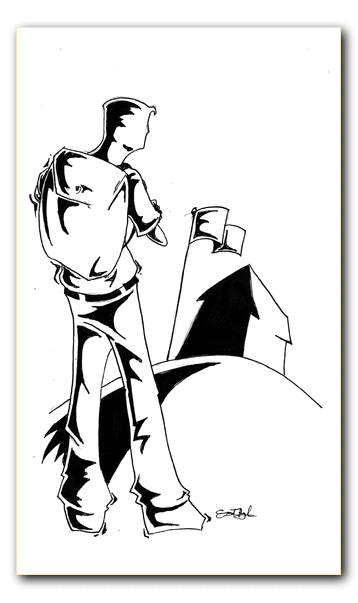 Arizona Daily Wildcat
For Mesa high schools, the biggest problem is usually worrying if students will have the number one SAT scores in the state, or if the choir program can afford to travel to Disneyland this year.
If it gets lucky, a new high school in the Vail district might get a decent heating and cooling system.
As long as the state's funding system, Students FIRST, doesn't completely go to hell, Vail district's elementary schools might get carpeting, basic landscaping, and - the real kicker - ceilings.
The problem of poor school districts getting screwed is as old as this state. But the saddest part of all is that Arizona's $1 billion funding brainchild, inappropriately titled Students FIRST, is failing to improve the situation as it was intended to do and desperately needs to be reformed.
As much as Students FIRST has attempted to make education equitable for all students in Arizona in its two-year existence, the Vail school district's dilemma proves that the state's school funding disparity continues to worsen.
The state's old funding system, which relied on each district's sales taxes, was declared unconstitutional because of the disparity of funds between wealthier districts in the East Valley and a poor district such as Vail. Students FIRST was designed such that the state would foot the bill. The $1 billion allocated for the program would have been neatly divided among the state's districts - in theory.
Reality, of course, proves that Students FIRST is failing. Reality for elementary school students in Vail is that their new classrooms will not have cabinets, their new parking lot will barely have 66 spaces, and the school's new roof will probably fall apart in less than two years.
Parents in the Vail district are concerned that just providing the bare minimum for their children's schools has swallowed up their budget for the upcoming year.
The parents, who once had faith in Students FIRST for its potential for equalizing the state's funding system, are now discouraged by its inadequacy.
Thirty-five-year-old Pat Hannigan first heard that Students FIRST could benefit his three children enrolled in the Vail district and was optimistic. But Hannigan has said that the program's flaws have disappointed him.
Vail is attempting to build a $4.8 million elementary school that, if it turns out well, will look like a series of connected shacks. "All you can afford to build is a cheap strip mall," said Roger Brooks, an architect hired by the Vail school district.
In 1998, Mesa's Mountain View High School spent nearly $1 million just on a brand-spanking-new annex for the football team.
Break down the costs further, and the disparity becomes even more clear. Ideally the state would spend $90 per square foot of each school, but after cutting costs for estimates, building permits and other expenses, the figure drops to $70. In contrast, the state is showering a new prison in Tucson with $181 per square foot of construction.
And in Maricopa County, the state's fourth-largest district, Peoria School District, expects to come in under budget. Obviously Peoria parents and students have no complains about Students FIRST.
The problem, which begins at rickety ceilings and bad sewage systems, progresses into bad teaching, poor equipment, and all-around bad education. A school that can barely afford ceilings is not likely to boast high-tech computers. And East Valley schools that did well before Students FIRST will continue to be successful whether or not the program continues.
Regardless of how equitable the state claims to make school funding, its commitment to education is nil as long as Students FIRST continues to be the state's primary means of funding public schools. No matter what reforms are made, poorer districts always seem to lose.
The bottom line: the state needs to go back to the drawing board. A new, more equitable funding system needs to be created - one that proves that Arizona truly puts its students first.