DeVito power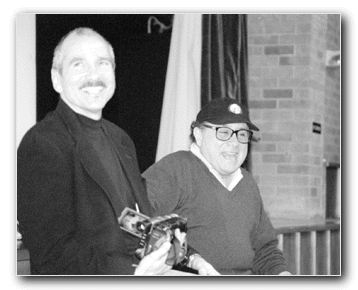 Wildcat File Photo
Arizona Daily Wildcat
"War of the Roses," director Danny DeVito and screenwriter Michael Leeson humorously field serious and complex questions Friday night. DeVito and Leeson have worked together several times, even collaborating on unoffical projects.
Actor/director Danny DeVito and screenwriter Michael Leeson made a rare appearance at Friday night's International Arts Society Film Series.
After the movie, both DeVito and Leeson spent nearly an hour answering questions from the audience in the Modern Languages Auditorium, which was filled to capacity. The event marked a highlight in this semester's IAS series, sponsored by the College of Humanities.
DeVito, whose 1989 dark comedy, "War of the Roses," was featured at this week's screening, visited Tucson as a favor to his friend Leeson, whom he met on the set of "Taxi."
"Sometime after 'Taxi,' Danny and I were driving to lunch one day, and I had this script on the floor of my car," Leeson said as he explained the beginnings of the project. "He kicked it, then picked up the script and asked if he could read it. He loved it."
Soon after, Michael Douglas and Kathleen Turner joined "War of the Roses" as Oliver and Barbara Rose, a seemingly storybook couple who eventually destroy each other because of their greed.
The film, based on the Warren Adler novel of the same title, examines materialism, deteriorating communication, domestic warfare and divorce.
Through it all, Oliver's friend and colleague Gavin D'Amato (DeVito) narrates, offering insight into the questions and emotions that "rattle the human skull."
DeVito, who has been working in the film industry for over 30 years, most recently produced and appeared in the Andy Kaufman biopic, "Man on the Moon."
"He was way out there, but a sweet guy," DeVito said of his experiences with the late actor. "When I first met him on the set of 'Taxi' he was sitting alone, listening to his headset. I went over to talk to him and found out he was listening to this gibberish language he made up for the Latka character. Then I knew he was either the consummate actor or he was just waiting for some sucker. It was the second."
Overall, DeVito described his career with great enthusiasm.
"Every film I've worked on is joyous. We always have a lot of fun," he said "You can't be too serious or you'll go crazy. My real passion is broads."
An actor in numerous movies, and a director of four films, DeVito admitted to his reasons for being a director.
"A person becomes a director because the position of God is already filled," he said with his characteristic husky chuckle. "But in a film you can't be selfish, it's a companionship."
"I love what I'm doing," DeVito said. "Every day is like a laboratory, it's always torture, exciting, difficult and blissful."