Trojans hold off Wildcats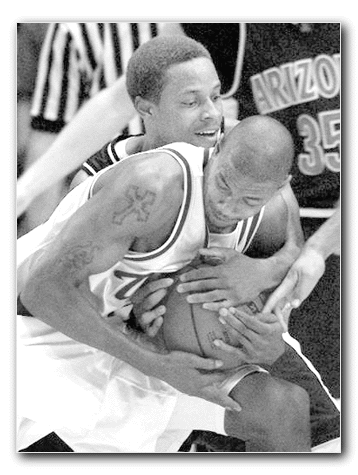 Associated Press
Arizona Daily Wildcat
Southern Cal's Brandon Granville, right, protects the ball as University of Arizona's Jason Gardner attempts to steal it during the second half of the game Saturday in Los Angeles. Granville scored 12-points played as USC upset second ranked Arizona, 80-72.
LOS ANGELES-The USC Trojans and the No. 2 Arizona Wildcats both played like undefeated teams on Saturday night at the Los Angeles Sports Arena.
Unfortunately for the Wildcats, one of the two teams was forced to leave the arena with its first conference loss, and judging by shooting percentages in the final box score, it was evident to all 9,105 raucous fans in attendance who that team was.
USC (12-5 overall, 5-0 in Pacific 10 Conference) was able to knock down the important shots throughout the game, while UA (16-3, 5-1) was inconsistent from the field, and as a result the Trojans came away unscathed in the Pac-10 with an 80-72 victory.
"There is no question tonight that the better team won," UA head coach Lute Olson said. "It is not a case of us playing poorly, they played great. They played as well or better than anyone we played all year."
The Trojans won the game with jump shots, shooting 50 percent from the field and 42. One percent from three-point range. The Wildcats managed just 41.3 percent from the field and 22.7 percent from downtown, including a one-of-seven performance from freshman Gilbert Arenas behind the arc.
"Gilbert's strength is his slashing ability and that is something, until he becomes a consistent three-point shooter, he is going to have to recognize," Olson said. "Eventually he is going to be a good three-point shooter, but he is inconsistent with his lift right now and until that is corrected he is not going to shoot it well."
Also contributing to the USC win was its defense on UA sophomore forward Michael Wright, who scored only three points from the free throw line and had zero field goals on only three attempts.
"They gambled on our inability to hit the perimeter (jump shots) and jammed everything up in the low post and that paid off," Olson said. "Defensively they did a great job. (David) Bluthenthal on Michael (Wright) for the most part eliminated Michael's presence for us offensively. But if we hit some of the open looks, then they have to play differently."
It looked as if the Wildcats would have the upper hand from the field early in the game as freshmen guards Jason Gardner (25 points) and Arenas (16 points, five rebounds) scored UA's first 12 points, including three buckets from three-point land and a four-point play from Gardner.
USC, though, answered everything the Wildcats would throw its way with great shooting from junior forward Brian Scalabrine (27 points on 10-of-16) and solid inside play from sophomore forward Bluthenthal, who scored a career-high 26 points, following a career-high 28 rebounds Thursday against Arizona State.
After UA went up 14-7, the Trojans reeled off nine straight points and never looked back. UA would cut the lead to one at half-time, 37-36, and then took a lead early in the second half 39-37 after a three-pointer from Gardner.
But the Trojans again had an answer, this time with an 8-0 run to go up 49-41. From that point on the Wildcats would trail the whole way, and were never able to go on one of its signature runs.
"They did what we usually do to teams, keep it close and just take it away at the end, but they held us off," said UA junior center Loren Woods, who had 21 points and 12 rebounds.
"We could just never get the lead in the second half, and they did a great job of slowing the tempo down, making sure they got a free throw or a wide open shot."
Arizona now has to turn its sights to arch-rival Arizona State as they travel to Tempe on Wednesday night to face a Sun Devil team that lost two close games to USC and UCLA this past weekend.
"We can't let this loss get us down," Gardner said. "You have to go to work every game because this conference is so good and a lot of teams are unheard of, a lot of people overlook them."