Survey says freshmen bored in high school, stressed now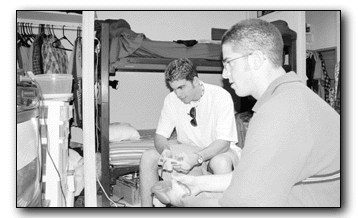 Arizona Daily Wildcat
Photo by: AMY BOHME
Aerospace and mechanical engineering freshman Seann Cross (left) and biology freshman Adam Melvin play "007 Goldeneye" on the Nintendo 64 yesterday afternoon in Yavapai Residence Hall. According to a recent UCLA survey, many college freshmen are stressed. Freshmen like Cross and Melvin use video games, exercise and television to combat stress.
A national survey released this week by the Higher Education Research Institute at the University of California at Los Angeles indicated college freshmen are stressed out from financial, academic and family responsibilities.
The survey also found that freshmen said they were uninterested in classes as high school seniors - often coming late to class or skipping them altogether. Additionally, the UCLA researchers concluded that college freshmen alcohol consumption is at the lowest levels of the 34-year-old survey.
According to the survey, 30.2 percent of polled freshmen said they felt overwhelmed in college. A slightly higher amount of students - 40 percent - reported being "frequently bored" in their high school classes.
On the University of Arizona campus yesterday, student reaction mostly agreed with the surveys, while some administrators refuted the UCLA findings.
"I had like three classes my senior year. It was so easy to graduate high school. Now I find it really hard to sit down and study," said UA biology freshman Kelli Foreman.
UA President Peter Likins said he was "surprised" by the findings.
"Freshmen are probably stressed because we are living in turbulent times ... the economy is much different than it was two generations ago," he said. "The uncertainty of entering college creates stress, not being bored high school seniors."
Likins referred to UA's incoming freshmen as "hard workers."
"Many were barely in the top half of their graduating senior class ... they are used to working hard; they did not coast through high school," he said.
Likins said he was surprised by many high school students taking classes for only half the day during their senior year and at the same time reporting being bored.
Veda Hunn, UA assistant dean of students, said the anxiety is not unusual when making the transition from high school to college.
"In freshmen, they're dealing with grade competition, peer pressure and fitting in," she said
She added that the academic workload for students also increases.
The survey points to a high-paced technological society in which current college freshmen are raised using fast moving technology. Linda Sax, the director of the study, said the advances in today's high-tech world may make it harder to hold student's attention.
To satisfy their need around technology, many UA freshmen pass the time by playing video games, surfing the Internet or watching television.
"There's lots of distractions, it's called Playstation," said management information systems freshman David Pordy.
Despite numerous available distractions, the number of freshman students receiving 4.0 grade point averages has steadily risen at the UA.
"Academics are steadily getting better," said Arizona-Sonora Residence Hall Director Keith Humphrey.
As director of the largest UA honors dorm, Humphrey also coordinates the annual 4.0 reception for all on-campus residents - most whom are freshman. The number of residential students who received a 4.0 rose from 290 in 1998 to 341 last year.
"(Doing well freshman year) all depends on your classes in high school," said business management freshman Greg Brown. "I took lots of (advanced placement classes), so college is basically the same for me."
The study also found one in four students surveyed while in high school expect to work full-time while in college. A separate study conducted by the Department of Education, cited in the UCLA survey, discovered half of the nation's college students work an average of 25 hours a week.
UA Dining Services employs more students on campus than any other department, with about 200 students, said David Galbraith, director of food services.
"I have friends who work, and they do worse in school." said pre-physiological sciences freshman Heather Spellman. "I am glad I don't have to work."
Catherine McWhorter, an engineering and mathematics senior, said she has seen evidence of stress in fellow students
"I do believe stress has increased mainly because job requirements are a lot higher, so they put a lot more stress on knowing the knowledge and meeting those standards," she said. "I personally feel like there's a lot of stress with my major because there is a lot of information I've never seen before."