Shadowing a House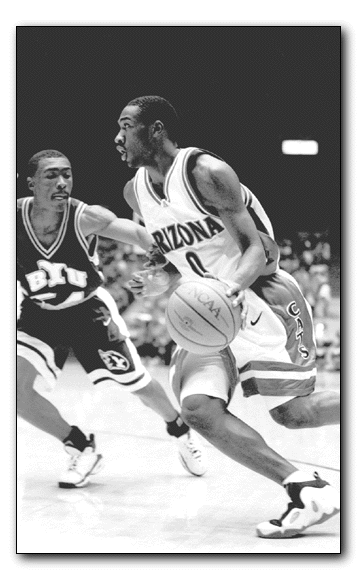 Nicholas Valenzuela
Arizona Daily Wildcat
Freshman guard Gilbert Arenas dribbles past a Brigham Young defender. Arenas, along with fellow freshman Jason Gardner, has the job of guarding the Pac-10's leading scorer Eddie House when Arizona plays ASU tonight.
It's a compliment to guard Arizona State's Eddie House, but Gilbert Arenas, the University of Arizona's freshman guard, isn't so sure he's ready.
House, a senior guard, is averaging 28.3 points in Pacific 10 Conference games, and has scored over 40 points three times this year. In a double-overtime win over California on Jan. 8, House blew up for 61.
"I know it's a big rivalry, and I know Eddie House is going to try and score 60-something," Arenas said.
When UA and ASU hit the floor at 8 tonight at Wells Fargo Arena in Tempe, Arenas will be ready to do a lot of running. He has ran and defended House's plays on scout teams during practice this week and was amazed at how much House runs without the ball.
"I don't know how he does it," Arenas said. "I was Eddie House yesterday in practice and it was me against Jason (Gardner), and he must be in incredible shape because I was out of breath."
Arenas and Gardner, both freshmen, will switch off defending House.
ASU (11-6 overall, 3-3 Pac-10) was swept this weekend by USC (in overtime) and UCLA (by six points) on the road, but got strong showings from many different players. Contrary to popular opinion, ASU is not a one-man team.
Guard Awvee Story scored 21 points against UCLA and had 24 against USC, outscoring House on both occasions. Story also leads the team in rebounding, averaging 10.3 in Pac-10 games.
Freshman forward Shawn Redhage averages 11.7 points and has good range. Similar to what USC's Brian Scalabrine did against the Wildcats, Redhage will pull UA junior center Loren Woods and sophomore forward Michael Wright.
"With facing ASU, they create a lot of problems," UA head coach Lute Olson said. "They really are moving well without the ball."
"They have nice balance, and Coach (Rob) Evans and his staff are utilizing their personnel very well," Olson continued. "The players are understanding the roles and are playing sound basketball."
With Woods and Wright inside, Arizona has a clear advantage over the Sun Devils. That was also the case against USC, but if ASU gets hot, the Wildcats could be in for a long night.
"That's almost an automatic advantage with him out there on the perimeter," Woods said. "He's just capable of scoring anywhere from 20 to 40 points a night ... or 60 if it's a good day, and hopefully, it won't be a good day for him."
Like any great player, it is unlikely that House will be completely stopped.
"The key is to try to slow Eddie House down, not stop him," Olson said. "Our biggest thing becomes percentages. If he has big numbers, but not big percentages, then we are probably going to be okay."