Carving up a Clinton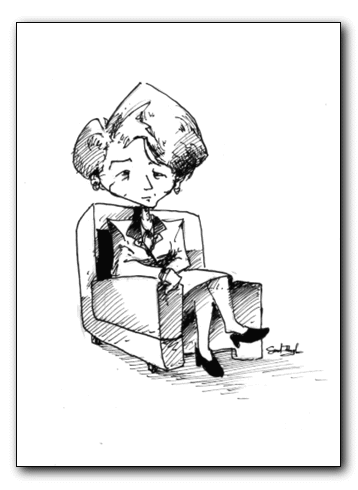 Arizona Daily Wildcat
Hillary Clinton is clearly not experiencing separation anxiety from the White House, as she hastily moved out of public housing for the first time in 17 years this month. Her new "White House," the one in Chappaqua, N.Y., places a sizable slice of land between herself and D.C., Capitol Hill, and the administration from which she is fervently trying to distance herself.
So far, she has distanced herself from her husband's position on several key policies. This reflects her desire to carve out an image for herself independent of the Clinton Administration. She no longer wants to be known as the feisty first lady who goofed up health care reform during her husband's first year in office.
She opposes the administration's "Don't Ask, Don't Tell" policy, created in an attempt to ensure that gays could serve in the military. The policy, which has actually led to more gays being discharged from the military, has now become a football for Republicans who say the policy is "working."
Hillary Clinton believes that gays ought to be able to serve openly in the military. She recently expressed disdain for the administration's policy, which actually forces gays to conceal their sexuality and allows military officials greater freedom to persecute them.
In opposing the policy, she has framed it as a failure on her husband's part. The president admitted that the policy was not what he originally intended it to be, and - as usual - blamed Congress for beefing it up with anti-gay policies before eventually passing it.
Another area in which Mrs. Clinton disagreed with Mr. Clinton was the president's policy on the Puerto Rican terrorists who had been arrested late last year for terrorist activity. The president released the prisoners, after making the Puerto Ricans promise not to engage in any other dangerous activities. Hillary Clinton publicly disapproved of the position, further distancing herself from the White House's positions and policies.
Now, it's all about being a New Yorker.
But she hasn't acquired the accent - yet.
Hillary Clinton is still working on learning their language, and proved this Tuesday when she spoke about the state's education system. Mrs. Clinton defended the New York City Board of Education after it faced a slew of criticism from her still-to-be-announced opponent, New York Mayor Rudolph Giuliani.
More importantly, she made a trademark appearance on the Late Show with David Letterman. Letterman, who had publicly coerced her into being a guest on his show for several months, is an important base to cover for any politician trying to break into New York politics.
Carving out her own image, reinventing herself, perhaps, is the only way she can destroy her current image. In the White House, she is perceived as being Tammy Wynette, standin' by her man. Though she was one of the most active and prominent first ladies this nation has ever seen, her husband's extracurricular activities turned her into the jilted wife in many Americans' eyes.
Carving up a new Hillary means dealing with even more criticism. Earlier this week, New York radio talk show host Don Weeks asked her why people dislike her so much, and she said, "I think some of it is because of the positions that I've taken and maybe a little of it is because I'm a woman taking those positions."
But Mrs. Clinton is not just any woman. She has been an unusually vociferous first lady, has dared to harshly criticize the far-right in defense of her husband, and has crawled under the skin of ultra-conservatives who can't stand to see her liberal positions supported.
In New York, she can become Hillary Rodham Clinton, U.S. Senator. New York could become a launching pad for a fresh new political career - minus Bill.
Sheila Bapat is a political science sophomore. She can be reached at editor@wildcat.arizona.edu.