Wash-out in Wells Fargo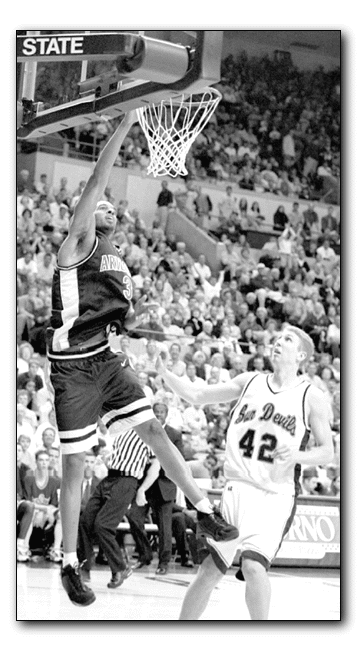 Matt Heistand
Arizona Daily Wildcat
Arizona Wildcats junior center Loren Woods prepares to cram a dunk home over Shawn Redhage of Arizona State. Woods finished the contest with just 10 points and seven boards, but the Wildcats manhandled the Sun Devils anyway in a 82-55 UA victory.
TEMPE-Arizona State came out with momentum on its side, but before the Sun Devils knew what hit them, they were quickly sent back into a harsh reality by the Arizona Wildcats.
No. 4 Arizona (17-3 overall, 6-1 in the Pacific 10 Conference) started off sloppy, but quickly settled down and blew out ASU (11-7, 3-4) 82-55 last night.
Arizona's freshmen guard duo of Gilbert Arenas and Jason Gardner stifled ASU's Eddie House with a box-and-one defense, limiting him to eight points on the night, his lowest point total in Pac-10 games this season.
House was 4-for-14 from the field, including 0-for-6 from three-point range.
"I sucked," House said. "I came out, I laid eggs. They boxed-and-oned me. I sucked, period."
House showed his frustration early, when he and Gardner were involved in a meaningless spat in the first half, and his lack of confidence was contagious-the Sun Devils shot 32.8-percent from the field and 5-for-21 from beyond the three-point arc.
"Everything that was done defensively with Gilbert and Jason playing the chaser in the box-and-one, it took help from others to cover up when he (House) came off screens," UA head coach Lute Olson said. "(Junior center) Loren's (Woods) presence in the middle just changes the game."
With House ice cold and the rest of the Sun Devils unable to knock down open looks, Arizona saw an opening and went for the jugular.
Sophomore forward Rick Anderson, who said he has lacked confidence in his shot recently, knocked down a three-pointer and was followed up by multiple baskets from Arenas, Gardner, Walton and Woods.
"As soon as I hit that three, and Jason made three or four shots in a row and Loren was packing everybody, I was like, 'Wait a minute, we're going to blow them out'," Anderson said.
"They weren't scoring and they were afraid to shoot over Loren. Right there, our defense won it."
Arizona took a 39-22 lead into the locker room at halftime, and put ASU away with a five-minute spurt early in the second stanza.
Sophomore forward Michael Wright broke out of a shooting slump by getting involved down low.
Woods, Gardner and Arenas were able to make stops on defense and turned them into points on the offensive end.
Before the sell-out crowd of 14,203 at Wells Fargo Arena knew what was happening, Arizona had a 70-33 lead with over eight minutes left.
Arenas led Arizona with 24 points, followed by Gardner's 16.
Anderson, Walton and Woods had 10 points apiece.
Just as the scoring was distributed evenly, Arizona's rebounding was spread out well.
Arenas had eight, Wright and Woods had seven, and junior forward Justin Wessel and Walton had six.
"We started blowing them out, and I wasn't even thinking about anything else," said Walton, whose 10 points is a career-high.
"We can jump on anybody, but lately we haven't been jumping on anyone."
Olson emptied the bench, bringing on senior guard Josh Pastner, junior guard John Ash and sophomore forward Peter Hansen late in the game.
Also a tight end on the football team, it was Hansen's basketball debut.
Due to injuries, he joined the team earlier this month to provide a body during practice.
Bryan Rosenbaum can be reached at Bryan.Rosenbaum@wildcat.arizona.edu