ASUA holds first fundraising forum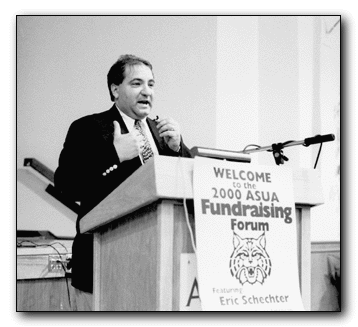 Arizona Daily Wildcat
Photo by: AMY WINKLER
Alumnus Erik Schechter gives a speech last night at ASUA's first fundraising program directed towards student clubs. Schechter is an expert on fundraising and owner of GAME, Great America Marketing and Events.
The president of a marketing association addressed more than 115 students representing sport, social and academic clubs last night at ASUA's first-ever fundraising forum.
Eric Schechter, president of Great American Marketing and Events, graduated with a mechanical engineering degree from the University of Arizona in 1981. He held positions in many clubs on campus, including Interfraternity Council vice president, ASUA fundraising chair and member of the Alpha Epsilon Pi fraternity.
"Schechter is an expert on fundraising, and I really hope students can benefit from his ideas," said Benjamin Graff, executive vice president of Associated Students of the UA.
Schechter began his own business, Great American Marketing and Events, four years after graduation. The group helps fund non-profit organizations and franchise companies. It started out small, but now has offices in Sweden, Canada, Singapore and Scottsdale, where Schechter works.
Graff has been working on a fundraising program for over two months, after rugby team member Bron D'Angelo asked for help from ASUA.
"Our team holds a lot of fundraising events, but a lot of the money was coming from our own pockets," said D'Angelo, a psychology junior. "So I spoke with Ben and realized that a lot of clubs are having the same problems as us."
It was then that Graff and D'Angelo contacted Schechter to come speak at the UA and help students raise more money for their clubs.
Schechter usually charges $2,500 to give his presentation, but Graff said he settled for UA basketball tickets.
Schechter began his lecture at the Arizona Ballroom by declaring his love for the Wildcats and asking the audience about the basketball game against the "Scum-Devils" Wednesday night.
"Every club needs a champion, and a leader, and to determine what kind of legacy they want to leave," Schechter said.
Some of Schechter's ideas for unique fundraising events were sports tournaments such as a hole-in-one golf game, over-the-line softball and three-on-three basketball games.
"The key to successful fundraising is to define goals and build a team," Schechter said.
A team should consist of a sponsorship chair, a sales chair, an operations/ logistics chair and a public relations chair, said Schechter.
Schechter also recommended securing the media and sponsorships and developing a budget before beginning a fundraising event. The money can come from registration fees, merchandise sales and sponsor fees.
"I was really ecstatic with the outcome of tonight's forum and hope to have one each semester," said Graff.
Communication junior Laval Malachi, who is on the funds committee of the Phi Beta Sigma fraternity, who said the information given by Schechter was very interesting, hopes to be successful in future fundraising.
"There are a lot of job opportunities in this business, and the key is to have social and communication skills," Schechter said.
"I hope many students will find a future in marketing," he said. "I think it's very rewarding and exciting."