Battle in the Bayou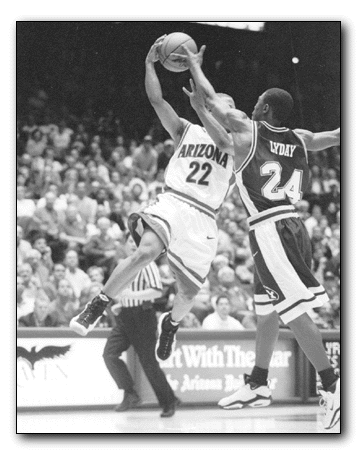 Nicholas Valenzuela
Arizona Daily Wildcat
Freshman guard Jason Gardner drives to the basket against Brigham Young on Dec. 1 at McKale Center. Coming off a blowout victory over Arizona State on Wednesday, Gardner and the Wildcats travel to Louisiana Saturday for a key non-conference game against the LSU Tigers.
"Mean Gene" is missing his flight home.
In a would-be homecoming game for Arizona's senior forward Eugene Edgerson, the fifth-ranked Wildcats (17-3 overall, 6-1 in Pacific 10 Conference) will travel to Baton Rouge, La. to take on the Louisiana State Tigers (15-3, 3-3 in SEC) tomorrow afternoon at 1.
Because Edgerson decided to redshirt the year to focus on completing his degree and student teaching, he not only will not be playing against the Tigers, but he will not even be at the game.
Instead, Edgerson will be in Tucson for one of his few Saturday meetings that happened to fall on the same day as his scheduled homecoming.
The Wildcats will have to tend to business, though it is a non-conference game that has no bearing on the Pac-10 race.
After thoroughly defeating Arizona State 82-55 at Wells Fargo Arena in Tempe, the University of Arizona now has to travel cross-country to play a team that started the season 13-0. LSU is also coming off a 96-75 rout of Arkansas on Wednesday night.
"We just came out here to play hard against ASU, and now, our next opponent is LSU, so hopefully we can go down there and get a win," UA freshman guard Jason Gardner said after the blowout of Arizona State.
Despite the win over the Razorbacks, the Tigers have been less than impressive since their hot start - losing to No. 11 Tennessee, No. 10 Florida and No. 20 Vanderbilt, leading some critics to believe the Tigers can't play with the top teams in the country.
Not according to the UA players, though.
"I think it's going to be a dogfight," Gardner said. "It's going to help get us ready for the NCAA tournament. We've had a great schedule this year and this is just part of it."
Although LSU has struggled as of late, 6-foot-9 sophomore forward Stromile Swift has continued his dominance inside.
Swift, who scored 21 points in last year's 78-71 loss at McKale Center, is third in the SEC in scoring, averaging 16.7 points per game, and seventh in the conference in rebounding with 7.7 boards. "Stro," as he is called by his mother, is also second in the SEC in field goal percentage (49 percent) and first in blocks (2.6 per game).
Swift will most likely be matched up with UA sophomore forward Michael Wright.
Wright, whose offense was lacking against USC and in the first half at ASU, broke out in the second half Wednesday, shooting 4-of-5 from the field for eight points.
"It took me a while to get going. I guess I am in a bit of a shooting slump ... if that's what you want to call it," Wright said following the ASU game. "I came out in the second half and just tried to make my presence felt, make me hard to guard, and that is what I did."
Gardner also talked about getting Wright back into the flow of the offense.
"We wanted to get Mike's game back, get him the ball down low, so he could start getting comfortable again," he said. "A lot of people are just doubling down low on Michael and that is making him kick the ball out."
With Swift's presence down low, it may be hard for the Wildcats to get the ball to Wright once again, which could leave some of the scoring burden on the swingmen - sophomore Ricky Anderson and redshirt freshman Luke Walton.
Anderson and Walton had breakout games at ASU as they combined for a 9-of-14 shooting night and 20 points.