Wildcats host USF this weekend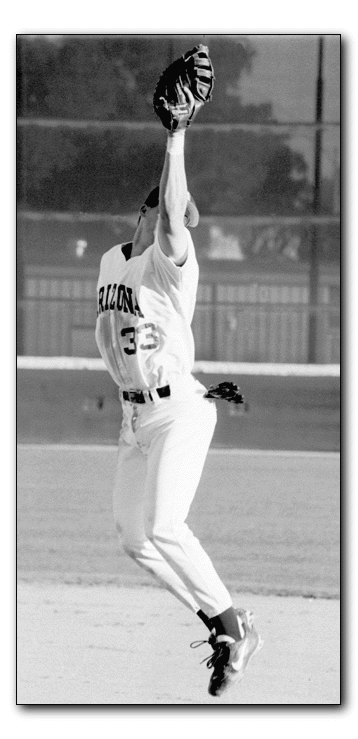 Matt Heistand
Arizona Daily Wildcat
Arizona sophomore pitcher Ben Diggins snags a line drive during a game against the Baylor Bears last season. Diggins will be the starting pitcher today in a weekend series against the University of San Francisco and may also see time as the designated hitter
Last weekend, the University of Arizona's baseball team opened its new season with a pair of victories against St. Mary's of California.
This weekend, it's back to the grind, as the Wildcats face off against the University of San Francisco in a three-game series beginning today at Sancet Field.
For the Wildcats, another weekend brings out another West Coast Conference team. The conference, composed of small private schools, has been a pipeline for UA opponents this season.
"We have to get teams to come in," Wildcat head coach Jerry Stitt said. "Most teams will only come out here if we play a 'home-and-home' with them."
This is the first time the two teams have met since 1977, when the Wildcats won 12-0. The Wildcats are 2-0 in the series, which dates back to 1955.
"They're a good club, much better than last year," Stitt said. "Their coach will get them going for the series."
This afternoon's game will see Wildcat ace Ben Diggins go up against Dons left-hander Ian Perio. Diggins, who is 1-0 with a 1.80 ERA, allowed three hits in five innings of work against the St. Mary's Gaels in the opener.
Tentatively, Mike Crawford will pitch for UA. Stitt may elect to shake up the rotation, however.
"We may go with Pemble on Saturday," he said. "It'll depend on practice and how everybody's throwing."
Sunday afternoon will see either Crawford or Pemble go up against John Herbert of San Francisco.
For Stitt, "Super Sunday" has always been a baseball day.
"It's always been that way," Stitt said. "It's not a concern of mine. The football game doesn't start till 4 (p.m.) We start at 1."
One bright spot for the Wildcats in the first week of the season has been catcher Chris Cunningham. In last weekend's series, the sophomore from Diamond Bar, Calif. went 2-for-5 with a .500 on-base percentage.
Cunningham, who was projected to split time with freshman Ken Riley, provides a left-handed bat, which is rare for a catcher.
According to Stitt, his quick start has been expected.
"He's not a surprise, especially to us," Stitt said. "He's started off really well."
Against the Dons, Stitt may decide to platoon players, especially at second base and designated hitter. If that happens, sophomore Brad Hassey will see time at second base. Even Diggins, who was the designated hitter against a left-handed pitcher last Saturday, may return to that role on Friday.