Ambassadors put bandage on construction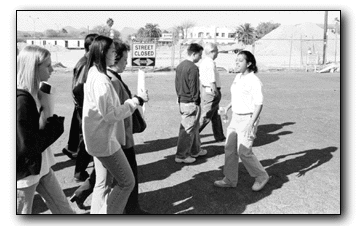 Aaron Farnsworth
Arizona Daily Wildcat
A freshman campus tour led by chemistry and molecular biology junior Rupali Roy runs into construction Saturday morning. The Arizona Ambassadors, a group of volunteers, provide tours to prospective freshman.
The Arizona Ambassadors spend their days hiking around construction zones while giving tours to prospective students, but have found ways to talk around the holes in the ground.
"We try to put a positive spin on the construction, especially for the freshmen," said Arizona Ambassador Andrea Marconi, a political science senior. "After the construction is over, there will be a lot of benefits for them."
To answer incoming students' questions, the ambassadors have developed a construction brochure sealed with an adhesive bandage.
The brochure gives details about construction of the Memorial Student Union and the Integrated Learning Center, as well as completion dates.
"Many of the people's questions are answered in the brochure," Marconi said.
The most frequently asked questions are "when will it be done?" and "how is it funded?" Marconi added.
"No one has been offended by it (the construction)," she said. "A lot of them are curious about what it will look like."
But some parts of the tour encountered problems because of the construction, she said.
"Our tour route was affected, so we had to re-route around some areas," Marconi said.
Instead of walking students around the construction areas, ambassadors now stand on the front steps of Bear Down Gym and point out the new construction, she said.
Marconi said tour recipients understand that a lot of universities are going through construction, and know it is a "positive change" for the campus.
"We try to tell them about all of the benefits they will get once the ILC is completed," she said.
The 24-hour computer lab and other ILC resources are benefits for freshmen, Marconi said.
"We tell them that even though they won't be able to enjoy it (the ILC) their first semester, it will be done by spring of their freshman year," she added.
Arizona Ambassador Rupali Roy told her group of prospective students that once the Memorial Student Union is complete, it will "be really nice."
"One year of construction won't be so bad," said Roy, a chemistry and molecular and cellular biology junior.
Roy, like the others, took her tour to the steps of Bear Down Gym and told them about the ILC.
"It's a big hole in the ground now, but once it is done it will be a really nice facility for you all," Roy said.
Meghan Wogan, who came from Scottsdale to tour the University of Arizona, said the construction would affect her decision a little bit, but not much.
"The construction really wasn't a problem," she said. "I really liked how she (Roy) told us when it would be done."
Al Zehangut of Tucson - who once attended the UA - brought his daughter, a prospective student, on the tour. He said he was concerned about the ILC being built and taking away part of the Mall.
"I was happy to hear it would be restored once the construction was completed," he said. "I was afraid they would take away that recreational area."