Wildcats sweep San Jose State, lose at Denver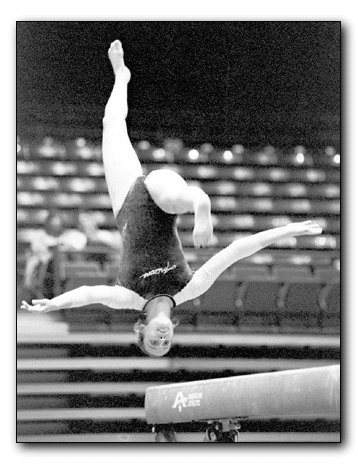 Ian C. Mayer
Arizona Daily Wildcat
Junior Kara Fry performs a flip on the beam during Friday's victory over San Jose State at McKale Center. Fry's season high 9.625 on the beam was good enough for third place and to lead a 1-2-3 Wildcat sweep in the event.
Taking top places in every event, Arizona's gymnastic team was able to record its highest total score this season, registering a 194.025 victory over San Jose State.
UA, ranked No. 23, was led Friday night by strong performances from sophomore Randi Liljenquist and freshman Nikki Beyschau and never trailed the Spartans.
"The team's over-all effort was very apparent tonight," UA gymnastics' coach Bill Ryden said. "We wanted to improve our consistency and we did."
Liljenquist took her second all-around title with a career-high of 39.125. She also earned first-place honors on the beam with a 9.75 and the floor with a career-high of 9.9.
Liljenquist took second place on the bars with a recorded score of 9.825.
Beyschau had a career-high in the all-around with a second place finish of 39.00. Beyschau also took second place honors with career-highs on the beam (9.7) and the floor (9.825).
After sitting out last week with an ankle injury, senior All-American Heidi Hornbeek took the bars title with a 9.85. Junior Kara Fry recorded a 9.625 on the beam, a 9.8 on the floor, and a 38.75, giving her three third-place finishes.
After Friday's impressive outing, Arizona traveled to Denver, where they saw a much different outcome.
With an overall score of 192.900, the Wildcats finished third behind the University of Denver and the University of Minnesota.
Arizona (3-4 overall, 0-2 Pacific 10 conference) got an outstanding performance from Hornbeek, who registered a 9.85, a career high, on the bars. The finish gave her the Wildcat's only first place finish, albeit a tie for first.
Denver, which placed second, fell to 5-2 while Minnesota improved its record to 3-2 after the first-place finish.
Next up for UA is California and Southern Utah in a triangular meet on Friday. The meet is at home in the McKale Center and starts at 7:30 p.m.