'Trying to put a patch on a gash'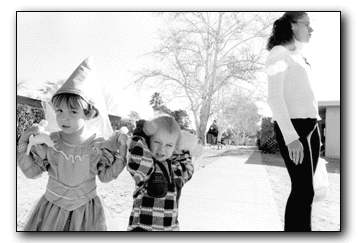 Arizona Daily Wildcat
Photo by: DANIEL KEMPNER
Kendra Davey, 27, stands nearby her Christopher City Apartment with her children Fiona, three, and Conlan, one. Some Christopher City residents have complained that the UA hasn't maintained the complex's landscaping, and the grounds are now barren.
Anna Orbay depends on the Christopher City Apartment Complex to provide affordable housing and a family atmosphere for her child while her husband finishes his UA doctoral degree.
But UA officials still are unsure about what to do with the family housing complex after years of debate about whether to repair, rebuild or find an existing complex to place families. Built in the 1960s, Christopher City, 3401 N. Columbus Blvd., is home to about 800 people - mostly UA families and international students.
The latest event in the on-going controversy occurred last month when the Arizona Board of Regents approved a $25 million on-campus graduate housing complex to be completed by 2002. The complex is not intended to house families, and some residents are upset that the UA is spending millions on a new complex instead of making necessary upgrades to Christopher City.
Orbay, who has lived at Christopher City for four years, said she thinks the UA hasn't researched the residents' options enough and has instead prolonged a decision.
"The university, in my opinion, is trying to put a patch on a gash," said Orbay, whose husband, Ozer, is a UA environmental engineering doctoral student.
She said she wants the UA to get competitive bids on the cost of repairing and rebuilding.
"That would be a really wonderful solution to find," Orbay said, adding that if UA President Peter Likins met with residents, they could find a solution together.
James Van Arsdel, UA director of Residence Life, said the complex was built poorly by the Knights of Columbus, who intended the apartments to be for retired people, and problems have grown since then. The UA acquired the complex for family housing in the late 1960s.
In 1994, residents complained about a roach infestation and sewage back-ups that were a health hazard.
Van Arsdel said the sewers backed up because residents would place unflushable items in the toilets and tree roots damaged sewer pipes.
He added that the UA has been trying to decide if it wants to sell or rebuild on the property since it was purchased.
Kendra Davey, who lives at Christopher City with her husband Sean, a computer science graduate student, said the UA has delayed a decision for too long.
"If they are going to build something - build it," Davey said. "If not, make this place look nicer."
Residents have complained that Christopher City's grounds are barren from dying grass and trees, and the painted lines and speed bumps in the parking lot are faded.
But Davey said she has been happy with her experience overall.
"They are good about repairing things when they are broken, but I don't think they've kept this up," Davey said.
Amy Insalaco, whose husband Mike is a second language acquisition and teaching doctoral student, also said she wants more money spent on landscape maintenance. She suggested the complex's 700-800 residents divide up areas of the grounds to maintain, which would also create a sense of responsibility.
"We'd hate to leave," said Insalaco, adding that her family is unable to rent as much space at another complex in Tucson for the same price.
Toni Martin said the UA disregards the residents' concerns and opinions.
"It's an always losing battle," said Martin, whose husband Joseph is a American Indian Studies doctoral student. "They don't really care about how we feel."
Martin said she wants the grounds cleaned up with more flowers, bushes, repainted sidewalks and speed bumps and also hire more staff to help the one grounds-man.
Christopher City's future
Van Arsdel said the UA is in the "midst" in family housing decision making, but wouldn't specify when a decision will be made.
"Really what makes sense is to take this in sequence fashion," Van Arsdel said. "Our intent is not to let this just languish forever."
He said the UA will apply what they learn from the new graduate housing complex to solve the family housing issue.
Ideally, Van Arsdel said he would find a solution that separated graduate and family housing and still provided the same type of a community experienced as Christopher City.
"We have to account for the fact that there are limits to what's possible," Van Arsdel said.
"It is a controversial issue," Van Arsdel added. "I want to do what it takes to provide a level of quality that students deserve and this university should be providing."
"One of the realities is that we are serving a population that is very, very cost sensitive," said Van Arsdel, who lived at Christopher City for a couple of months in the late 1980s when he first arrived at the UA.
Saundra Taylor, UA vice president for Campus Life, said Christopher City will have to be torn down at some point.
"We are still committed - the president is committed, I'm committed - to family housing at the University of Arizona," Taylor said.
She said she wants a new family complex to have some of Christopher City's amenities, such as a community center, pool and day care center.
"There are some pluses about the design characteristics. It's just that the facility has some problems and it's on the decline side," Taylor said
Some Christopher City residents said they have solutions in mind and university administration needs to work with them to find the best answer.
"I think there could be a solution where graduate students with families could still have a community and be practical financially," Insalaco said.
Jake Elkins, a member of the Christopher City Residential Association, said he wants to integrate Christopher City into the nearby Rio Rillito area and also add an amphitheater.
"That would put the U of A on the map for building a neighbor cluster that's sustainable," Elkins said.
Orbay said the solution to family housing must contain an area for children to play safely - like their current patio - and have controlled traffic.
"There should be some compatible solution we can find," Orbay said. "I can't imagine going closer to campus."
The residents have been asked by Residence Life to fill out a survey about their housing preferences. The surveys should be finished by Feb. 14.