Campaign Cats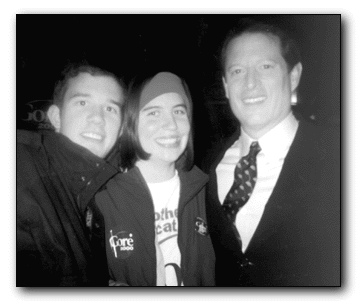 Arizona Daily Wildcat
Photo courtesy of Ted Cox. From left, UA political science freshman Ted Cox, journalism sophomore Melinda Mills and Democratic presidential candidate Al Gore. Cox, Mills, political science freshman Cindy Cameron and secondary education and interdisciplinary studies junior Elena Tosi went to New Hampshire over winter break to help with the Gore 2000 campaign.
Ted Cox knows who he wants as the next president.
He is so sure that he went as far as New Hampshire to support the candidate of his choice.
Four members of the University of Arizona's Young Democrats Club, including Cox, a political science freshman; spent 10 days of their winter break rallying for Democratic presidential hopeful Al Gore in Dover, N.H.
Journalism sophomore Melinda Mills, the co-president of the organization, was first to bring up the idea of going across the country. After, she received the internship information on the Students for Gore e-mail list-serve.
"I was afraid to ask my parents, but they were cool about it, and it was part of my Christmas presents," she said.
Mills added that her parents are both "big" Democrats.
Cox, the club's events coordinator, said he joined the list-serves of all the Democratic candidates and asked to be taken off when he made a choice.
"I've done a ton of research on (former N.J. Sen. Bill) Bradley and Gore," he said. "I support him (Gore) pretty adamantly."
The group members were the only college students from Arizona to join the campaign, which surprised the East coasters.
"I felt I needed to go there and support Gore," Cox said. "They were pretty impressed."
Cox, Mills and Cindy Cameron, also a political science freshman, slept an average of four hours per night because they were so busy.
"We were so enthused that it didn't matter," Cox said.
The Gore supporters spent the morning of the Jan. 5 debate doing "visibility" campaigning on traffic circles - circular roads on highways in the east coast.
Mills said they stood in the cold weather toting four foot by eight foot Gore signs. Trying to attract the attention of motorists.
"As soon as people were up, we were shoving Al Gore signs in their faces," she said.
Cameron said the weather is a change from here.
"It was below zero," she said. "I'm from Tucson, so the coldest I've been in is 60 degrees."
Cameron said campaign involvement is high in New Hampshire - the state with the first primary.
"People are almost spoiled because they call up and expect to get tickets for the debate," she said. "It's a huge deal, it's unbelievable."
Mills said the residents pride themselves on being the first state.
"Campaigning is different in New Hampshire, people will have parties where candidates would come," she said. "This would never happen in Arizona or California or anywhere."
Cameron said she shook Gore's hand several times and remembers seeing a man who was frantically pushing forward in a crowd of supporters. The man told Gore he had just turned 18 and fully supported the candidate.
"You could tell Gore, he had tears in his eyes," she said. "He seemed like a really genuine person."
After the debate, Cox said he went to George W. Bush's party and found a different atmosphere at the opposing candidate's celebration.
Bush stood on a stage, a distance away from his supporters. Gore was surrounded closely on a podium.
"There was a major difference in our parties and his," he said. "We were very surprised by how far away he was from his supporters."
Cox said meeting Gore ensured his vote for the possible future president.
"I have to say that was the best handshake I ever got," he said. "I knew I was supporting the right person."
Elena Tosi, the fourth member of the group, spent her break in Keene, N.H., apart from the others - and went back to help with the primary last week.
"I wanted to go back because I truly believe Al Gore is our best candidate," said Tosi, a secondary education and interdisciplinary studies junior. "I feel confident in myself that missing a week of classes is worth the experience."
Tosi said she experienced some violent brushes with Bradley's supporters and interns.
"At the UNH (University of New Hampshire) debate, they literally got abusive," Tosi said in an e-mail interview last week. "I can tell you I was not expecting to need self-defense tactics for a Gore internship!"
Tosi spent the weekend in "non-stop" action, and had dinner with the Gores Friday and Saturday night.
"Since meeting him, I've become much more impressed by his public speaking and his character," she said. "He takes the time to greet every supporter at a function and answer every last question."
Gore even took time to talk with Tosi.
"What really made this internship unbeatable was when he noted that he recognized me from meeting me a few times," she said. "He is incredible in person."