The Brothers Creeggan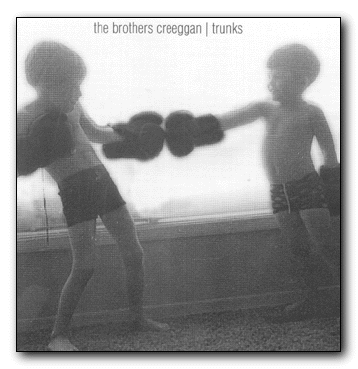 Arizona Daily Wildcat
(Self-released)
Canadians Jim and Andy Creeggan, whose musical talent drive their mellow two-piece band, once again rise above the current standard of post-Nirvana alternative rock.
With their third album, the band puts forth a sentimental, driving and beautifully rendered mosaic of jazzy folk and pop.
For those who are unfamiliar with the group, the Creeggans resemble a mix between jazzy, Burt Bacharach-style pop and the more modern angst-ridden Ben Folds Five. They convey more emotion and accomplish a greater sense of rootsy sentiment than either of the aforementioned artists.
Jim Creeggan, who also plays bass for the Barenaked Ladies, fronts the group's undertakings, playing a multitude of instruments, including the double bass, guitar, piano and viola. Both brothers provide vocal talents, providing listeners with soft, slippery melodies.
Lyrically, Trunks finds fodder from the lives of the Creeggan brothers, primarily from their childhood days. On the upbeat track, "John's in the Fridge," a childhood game of hide-and-seek gone awry provided inspiration. "It was a cool place to hide/But the tallest fool is now inside ... Andy come quick, he's losing air."
On "Goin' to the Forest," Jim sings about his attempt to run away from his family on a cross-country trip. "Past the wood pile/I walked for a good while/You laughed 'cause I'm just a child/the bears will teach me the wild."
Trunks finds solace in just those types of memories and provides the perfect mix of folk and jazz to accompany such stories, while staying true to their mellow, sentimental tone.
- Barry McGuire