Starting from scratch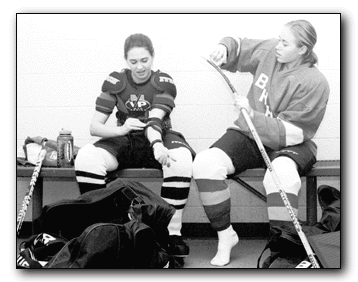 Arizona Daily Wildcat
Photo: AMY WINKLER
Marketing junior Cassie Molinari, left, and special education sophomore Erin Breidenbach talk in the locker room before last week's hockey game against the Tucson Chili Peppers. The Wildcat Icers and the Tucson Chili Peppers played each other in preparation for a tournament taking place in Las Vegas this weekend.
Members of the Arizona Icers women's club hockey team skated slowly off the ice on Sunday afternoon - leaving another stinging defeat behind them.
The group of 30 or so fans filtered out alongside them.
The 4-0 loss to the Tucson Chili Peppers, a women's club team, was just the latest loss for the winless Icers (0-6), whose inaugural season hasn't gotten off to a flying start in terms of wins.
The UA players were quiet, with some still having ice clinging to their practice jerseys. The team had to wear its practice jerseys again as the game jerseys were still not ready.
"We don't even have our jerseys yet," said senior defender Kristi Vanhassel. "Those are coming in February. Those are a big expense, those run $50 a pop. When we don't have any money, $50 for 42 girls is a lot of money."
Among the Icers, none looked more exhausted than goaltender Stephanie Aronson.
She had just saved 27 of 31 shots, her injured right arm hanging limply by her side - after putting on a display of acrobatics that would have made Dominik Hasek proud.
It could be the toughest for Aronson, who has been playing hockey for seven years. Most of her teammates have never played competitive hockey before this year.
Her teammates managed as many shots, four, as the opposing team had goals.
Despite that and a sore arm, she still had a smile on her face outside the locker room after the game.
"No, I'm so proud of my girls," Aronson
said. "I try to encourage them, teach them what I know, what I've learned from experience. I love playing with beginners because I see them improve, I see them get better, get confidence."
Creating the team
The Icers are the brainchild of head coach Ben Ladrido, the former hockey director at the Gateway Ice Center on Tucson's east side.
"It was decided in August that with the World Cup and things like that, that women's athletics was on the rise," he said. "I thought it would be a good idea to start a women's team.
"At the time, I wanted to get the university involved in more of the activities at the Gateway Ice Center. I think I had over 70 girls who were interested in jumping into women's ice hockey. I decided to try and start up a UA women's ice hockey team."
In order to do that, Ladrido got approval from the Department of Campus Recreation and then set up a booth at "club night" at the Student Recreation Center, when prospective players are able to learn about the 42 different club sports teams at UA, Icers team president Tami Thornburg said.
"Myself and (Vice President) Erin Breidenbach were talking to him and we said, 'if you need any help, let us know,'" Thornburg said. "He called us, and we pretty much became the people who did everything, got the club recognized, got the constitution going."
Over 70 women signed up for the team, participating in six introductory skating sessions which eventually whittled the roster down to its current number of 42 players.
Thornburg, a nutrition and physiological sciences sophomore, took on the title of team president, while Breidenbach, a special education sophomore was named vice president and treasurer.
Thornburg said her schedule filled up in a hurry.
"You name it, keeping contact with girls, dealing with Mary (O'Mahoney) at the rec, getting all the travel plans taken care of," she said. "Me and Erin and Carrie (Glover), who's the secretary, are working on T-shirts. We're working on fund raisers. There's tons of stuff I do. It was hard at first, but I'm handling it now."
Making ends meet
As hard as learning the game and getting organized was for the players and coaches, the financial problems that every club team faces soon began to mount.
"Oh, it's absolutely a struggle because of the money," Ladrido said. "If I had this group of women for any other sport, we'd be successful. You think of the ice fees, traveling, because there's not a lot of women's hockey teams in town here. You have to worry about officials costs. It's between $200-300 alone in equipment costs. The experience overall has been stressful."
Breidenbach estimated that the total cost for the season will be close to $25,000, not including ice time fees.
"We were doing all right (financially)," Thornburg said. "We're getting a few sponsors here and there. We've done car washes and stuff like that. We have no money, 'cause hockey is an expensive sport. Just recently, our paying for the rink time has increased. That could become the deciding factor for our team."
The Gateway Ice Center is now charging the team $210 per practice for an hour and a half of ice time, which has become a problem after the Icers were originally getting to practice for free.
Rodney Glassman, the owner and operator of the Gateway Ice Center, said the initial grace period the Icers were given has expired for a number of reasons.
"Both the rink staff and myself are very much in support of women's hockey, yet we must also be cognizant of being fair to all our customers," Glassman said. "We are currently working with the city to make ice sports affordable for the entire community."
The financial burden is especially tough on Aronson.
"I'm the only one on the team with a kid," she said. "Everybody else are students. So financially, yeah, because no one will pay for us. Financial-wise it's tight, but we're working on it."
The team has already had to cancel a trip to a tournament in Toronto after costs approached almost $2000 per player.
For the love of the game
Despite the financial struggles, playing on Tucson's east side and having to cancel their trip to Toronto, all the players agree on why they're out on the ice day after day.
"It's awesome," Thornburg said. "It's so exciting. It's one of the most fast-paced sports that I have ever played. The girls are awesome. Our team totally gets along. This is our first year. We weren't expecting much. We started from scratch."
Aronson, a Pima Community College student who is allowed to play on the Icers because only 10 percent of the team has to be UA students, said she was excited to hear about the team when it came into existence.
"Pretty much I said, 'Do they have a goalie? Sign me up,'" she said. "I was really excited, I wanted to play with them."
Most of the remaining 41 players on the Icers' roster are UA students, and almost all are still learning to play the game.
"For the first, while we were learning how to just skate," Vanhassel said. "I didn't know how to speed-turn, or anything. We've been working on puck-handling and a lot more plays to going to the goal."
But the off-ice struggles aren't affecting players new to the sport like Vanhassel, either.
"Because I have so much fun," she said. "I'm actually going to skate for the first time since November. I even went through that (knee surgery) for this. I've met a great group of girls. The friendship and just accomplishing something together makes this worth it."
The future
Given the financial problems, the Icers' future is still uncertain.
Still, with the growth of women's ice hockey, there are now 13 NCAA Division I teams back east.
"I think we're going to go all the way," Aronson said. "Most of the girls only started (playing) in November. They had never been on ice before. You can see the improvement they've already made."
The possibility of eventually becoming a Division I sport hasn't crossed many of the players' minds, but UA associate athletic director Kathleen LaRose said they shouldn't rule out the possibility.
"It depends on how financially stable we are," she said. "We're always looking at possibilities to expand our women's participation rate. There are a lot of women's hockey teams around the country right now."
For now, though, the key for the Icers is simple.
"We want to become known," Thornburg said. "Right now, it's our first year, and no one really knows about us. We want people to get to know us. We had a game last week, tons of people showed up.
"(But) we're going to be all right. We're going to hold our own."