Spurs' Sean Elliott cleared to practice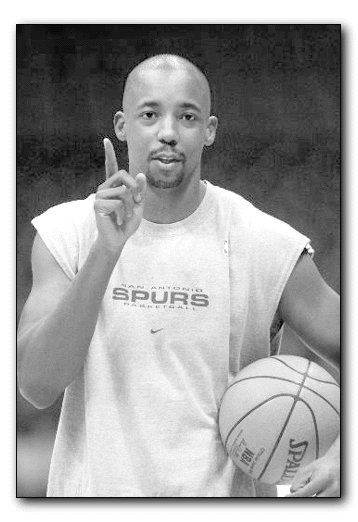 Associated Press
Arizona Daily Wildcat
San Antonio Spurs forward Sean Elliott talks with teammates during a morning practice in San Antonio on Friday. Elliott, who underwent a kidney transplant last summer, was officially cleared yesterday by Spurs' doctors to resume practicing with the team.
Associated Press
SAN ANTONIO-Sean Elliott received clearance yesterday from team doctors to resume practicing with the San Antonio Spurs, marking the latest step in his comeback from kidney transplant surgery.
He said it could be one or two months before he is ready to be activated.
''I knew this was coming. I kept saying it,'' Elliott said. ''I'm not going to be afraid to at least go out there and try.''
Elliott, a former Arizona men's basketball star, received a kidney from his brother, Noel, in the transplant operation last summer, following San Antonio's run to the NBA championship. He was cleared in December to run and get in shape, and he has been taking part in one-on-one and two-on-two drills with the team.
He will begin full-scale practices today, and last night's game against the Lakers marked the last one Elliott planned to work at his temporary job as a color commentator on the team's broadcasts.
Team doctors plan to run a series of tests on Elliott before and after each practice.
''First, I want to make sure he's safe, that he maintains his health,'' Spurs coach Gregg Popovich said. ''We'll see if the grind changes his health. Then, it'll be a question of whether he can help the basketball team.
''It's a basketball decision now, not a medical decision, as to when he can play.''
San Antonio entered yesterday's game with the fourth best record in the Western Conference. Last season, the Spurs had the best record in the league, thanks in part to Elliott's play at the small forward spot.
In Elliott's absence, the Spurs have met limited success using Jaren Jackson, Chucky Brown and Jerome Kersey at small forward.
The return of Elliott would help, but the team first wanted to be certain that Elliott was at no risk of severely injuring himself if he absorbed a hard blow to the abdomen or lower back.
Elliott had a condition known as focal segmental glomerular sclerosis, an illness that prevents the kidneys from properly filtering waste from the blood. Without the transplant, Elliott was weeks away from having to undergo dialysis.
Elliott's own doctors gave him the go-ahead last week to resume full-contact practices, and the Spurs' doctors added their OK yesterday.
''I think it's going to get harder and harder. It's not going to be easy,'' Elliott said. ''But the potential of something damaging happening is overblown.''