Eat, drink and be merry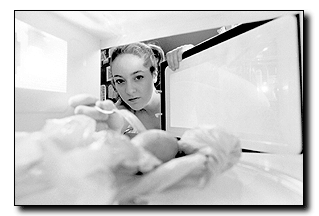 Joshua D. Trujillo
Arizona Daily Wildcat
Peering into her microwave, speech and hearing sciences sophomore Sarah Burns checks to see if her dinner is ready. Her original, if not odd, method for cooking potatoes has aroused the interest and appetites of her dorm neighbors.
From Staff Reports
Arizona Daily Wildcat,
September 2, 1999
Recipes
Ramen Noodles
Yes, Ramen noodles are probably the easiest and healthiest thing for those students who don't have many resources (i.e. you live in the dorm, don't have transportation, access to a stove, etc.) here at the University. They are very, very cheap - usually less than twenty cents each - and if you think of yourself as a dummy when it comes to the kitchen and cooking, there is virtually nothing to mess up here. Boiling water and noodles...it doesn't get any easier than this, folks! -Barry McGuire
Flour Tortillas and Cheese
If you want to be ambitious and actually try cooking food, you should always have two essential ingredients on hand: flour tortillas and cheese. Yes, the possibilities are endless with these two food products. Add beans and salsa for bean burritos, keep it simple and make a cheese crisp, or add chicken or fish to create excellent-tasting chicken or fish burritos. -BM
Sandwiches
God bless the man who created sandwiches. Yep, the Earl of Sandwich gets my utmost props. What genius to save us all the hassle of using cumbersome utensils like forks, or the dreaded chopsticks, by placing the entr­e between two slices of bread. Sandwiches are also terribly versatile. You can eat basic white or wheat bread, throw a bagel into the mix, a croissant, or even wrap it all up in a tortilla. Of course, the plethora of items you can choose from to accessorize the bread, are equally boundless. All kinds of meats, cheeses, vegetables, and condiments can be placed neatly inside, which demonstrates another benefit of sandwiches - their efficiency. Ultimately, sandwiches are a universal food item that we all can enjoy. -Rebecca Missel
Red Potatoes
As the old saying goes, "When the going gets tough, the tough gets going." Likewise, when the union food gets nasty, you improvise.
Sophomore Sarah Burns, recommends red potatoes in the microwave. Cooking times will vary depending on the size of the potato (5-10 minutes). But, the secret is in the plastic bag.
Place the desired amount of potatoes in a plastic grocery bag filled with about an inch of water. Double knot the bag securely and put it in a microwave. Nuke it for a few minutes and voila, red potatoes · la bag. For health-conscious dorm grubbers, there's always cottage cheese or salsa. And finally, honey is an interesting alternative for a sweeter taste.
-Maggie Burnett
Tuna Noodle Casserole
Have noodles? Have a can of tuna? Guess what, you have the ingredients for sophomore Erin Breidenbach's, quick and easy tuna noodle casserole.
Pour a bag of noodles into a microwave safe dish, pouring in just enough water to cover the noodles. Follow the cooking instructions on the package.
Once the noodles are cooked, mix in a can of cream of mushroom soup and a can of tuna (drained). Heat to a desired temperature, throw in a little salt and pepper, and you've just created a feast fit for a king, or at least for you and your roomie.
We recommend having a can of Glade nearby for post-dinner clean up. As yummy as the dish is, the smell is less than appealing, especially after the entire dorm wing starts complaining. -MB
Boiling Pasta
Pasta is extremely simple to make, even when living in a dorm.
A pot, water, a box of pasta and a jar of sauce is all you need.
How do you do it? Fill the pot up with water about two-thirds full, turn on the oven somewhere between medium and high, put the pot on the burner and wait until the water is at a steady boil (lots of steam and bubbles.) Then, dump in the pasta. Cook the pasta for eight minutes for an al dente style. When finished, take the pot off the burner (remembering to turn the stove off), and strain the pasta over the sink. Meanwhile, put some sauce in a bowl and throw it in the microwave for somewhere between two and three minutes, depending on how hot you like it. Pour your sauce over your pasta, garnish with Parmesan cheese if desired, and you are ready to feast.
-Stu Caplan
Raw Treats
Cooking, at best, is a waste of time. A variety of foods, including ones you may not expect, can be eaten raw. Pasta straight from the box, makes for a crunchy treat. Potatoes and tomatoes can be eaten like apples, the latter supposedly made even better, sprinkled with salt. Also, skip the middleman and go straight for the Kool-Aid powder, brownie mix, or mashed potato flakes. Just about anything can be eaten raw. Cooking is not a necessity, it's a hassle! -Graig Uhlin
Cooking Substitutions
Trying to cook without milk or butter can be distasteful (pun intended). Rice milk and soy milk provide great substitutes for milk in most cases. Rice milk has a smoother, sweeter taste than soy milk, so it's better on things like cereal, but it can give things like hot chocolate a taste than can only be described as "ricey." Soy milk works better in these cases. The best butter substitute I've come across is applesauce. Yes, applesauce. All you have to do is add applesauce to whatever you're baking in place of margarine or butter or even oil, in some cases. I've found that applesauce, since it's hardly as solid as butter, can give cookies a cake-like texture; combat this by adding a little bit less than the amount of butter the recipe calls for, and add a little more flour. - Annie Holub
A-1-and-Tuna Sandwich
A-1-and-tuna sandwich. OK, just hear me out. I know this sounds disgusting, but make this baby right, and you'll never eat tuna the same way again. It's easy and cheap to make, of course. Otherwise, it wouldn't be a staple of my diet. All you need is a can of tuna (dolphin-safe or otherwise), a can-opener, bread and a jar of A-1. Dump the tuna into a bowl. If you don't have one, a cupped-up newspaper will do just fine. Turn the A-1 bottle upside-down over the bowl/newspaper of tuna, then smack it three times. Be sure to turn the bottle upright after the third smack, then mix the tuna and A-1 together. What you have will make three sandwiches - no more, no less. A perfect meal that costs you no more than 40 cents. -Phil Villarreal
Cup O'Cereal Shaker
I swear McDonald's stole the idea for the Cup O'Cereal Shaker from me and my roommates and changed it to suit my mortal enemy, vegetables. This is for those hard hours in the mid-afternoon between lunch and dinner, when you've just gotta have some Malt-o-Meal Marshmallow Mateys, but you don't want to be a tool and pull out your cereal bowl. Get a big plastic cup, preferably a Big Gulp cup. The rest is academic; pour some cereal in and then pour in some milk . Put your hand on the top, and shake it. Just don't make yourself look as stupid as the morons in the McDonald's salad shaker commercial. Drink your cup o' cereal and enjoy. Try and remember to chew. -PV