Horned Frogs are Ready to Run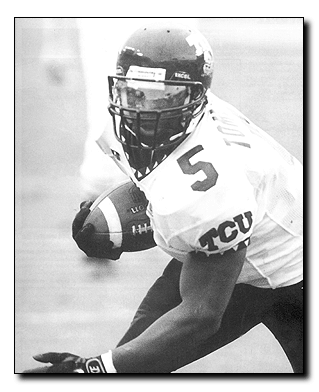 Arizona Daily Wildcat
Photo Courtesy of TCU media guide Texas Christian's junior running back LaDainian Tomlinson looks to make a move in a game last season. Tomlinson, along with senior quarterback Patrick Batteaux, are the two key players on offense for the Horned Frogs as they take on Arizona this Sunday afternoon at 4:30.
The Texas Christian football team has a simple philosophy - run the ball and don't let the opposing team run the ball.
Last season TCU did just that, including an amazing performance by its defense in the 28-19 Sun Bowl victory over Southern Cal that saw the Horned Frogs hold the vaunted Trojan rushing attack to -23 yards.
While the defense returns with many of its starters, the offense lost one of its primary tailbacks, Basil Mitchell, to the NFL's Green Bay Packers.
That leaves junior LaDainian Tomlinson (717 yards, 8 touchdowns in 1998), to carry the load in 1999.
"LT has done super (in practice)," TCU head coach Dennis Franchione said. "(It's) a little bit different situation for him this year. He's bigger, stronger, faster than ever. He can be a punishing runner, he can be a fast runner."
With Arizona coming into the game off a painful 41-7 loss at No. 2 Penn State, one might think that Tomlinson and his teammates are feeling more confident, but he said that this was not the case.
"I watched Arizona the whole summer (and) I know what they're capable of doing," he said. "Penn State just had an unbelievable game, almost a mistake-free game."
Tomlinson said Arizona's crushing defeat "hasn't boosted my confidence one bit."
UA head coach Dick Tomey said Tomlinson's abilities worry the Wildcats.
"Tomlinson is a fine running back. He makes you miss and he's got speed," Tomey said.
Franchione said Tomlinson is ready for the game after spending much of training camp untouched for fear of injury, much like the Wildcats did with their star tailback, senior Trung Canidate.
"We've limited his contact, wanting to make sure he can play in the first game," Franchione said. "LaDainian is chomping at the bit to get some action."
And while Tomlinson is excited to get back on the field, he said he's worried about Arizona's defense which he characterized with one word, "speed."
"Those guys run to the ball, they come with force," he said. "That's the biggest thing with their defense, they like to hit, they like to run around."
For Tomlinson to break past Arizona's defense, it will be up to his offensive line to come through for him.
"They've been with each other four years, some a little bit more than that," he said. "They've seen everything they can possibly see."
Franchione said it will be up to Tomlinson to carry the bulk of the load with Mitchell gone and the backup running backs having little to no experience.
"He will be more of a focal point in our offense," Franchione said. "He's the main running back for us this year. LaDainian is our guy going into this game."
But Tomlinson can't get TCU back into the postseason on his own. The other "focal point" on the Horned Frogs' offense is senior quarterback Patrick Batteaux (55 for 114, 519 yards, 1 TD, 8 INT, 479 yards rushing, 3 TD).
"Patrick is going into his second year much improved," Franchione said. "Judging from practice, he's throwing the ball much better, he has a much better command of the offense."
Franchione also feels confident in Batteaux's backup, true freshman Casey Printers.
"He's going to be a very exceptional player," Franchione said. "He has a great arm, great height, good speed. He has really got a bright future ahead of him. He's done tremendously well as a freshman, it hasn't happened in my coaching career that a freshman has performed like him."
While the offense is set, the only area of the defense that saw its starters depleted was the linebacking corps. But Franchione said he's not concerned, especially with junior Shannon Brazzell (86 tackles) coming back to lead the group.
"He played really solid football for us last year," Franchione said. "Chad Bayer will probably start beside Shannon, (but) we'll probably go to the kickoff before making a decision on that. Terrance Maiden broke his arm but will play with a cast on. We're fortunate we have depth, we have a lot of competition for the positions."
Also back for TCU are junior defensive end Aaron Schobel (66 tackles, 14.5 sacks), senior nose tackle J.W. Wilson (37 tackles, 12 for a loss), and junior defensive tackle Shawn Worthen (31 tackles, 7 for a loss).
The biggest difference between the TCU program at present and the Horned Frogs of 1997, is Franchione, Tomlinson said.
"He brought in attitude, chemistry and just working hard," Tomlinson said. "It was one thing that this program was lacking. They pushed it upon the guys here and the guys have picked it up and fought for Coach Fran and his staff ever since."
The fans around campus and the city have noticed, and after last year's 7-5 campaign, Tomlinson said they're expecting a lot this year.
"I was going to class and people are talking about the year (we had) and if they're ready to be there behind us, supporting us," he said. "Everybody, at school and in Fort Worth, are excited about the upcoming season. They're ready for a bowl game and hopefully we'll be ready to give it to them."