ODD JOB: Not just a roll in the hay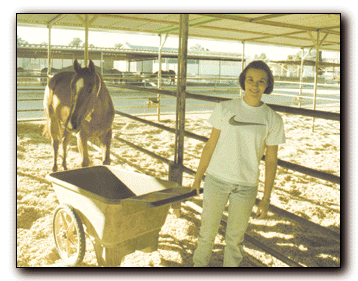 Matt Capowski
Arizona Daily Wildcat
Veterinary science freshman Allie Young takes a break from her afternoon duties at the UA Equine Center. Besides cleaning out stalls and raking, she also learns about the horses and how to handle them.
While some may consider mucking out horse stalls cruel and unusual punishment, for veterinary sciences freshman Allie Young, it's a profession.
Young has spent approximately six hours a week this semester at the University of Arizona Equine Center cleaning stalls, raking various areas and sweeping the barn.
"I always wanted to be a veterinarian," Young said. "And when I saw the e-mail on the microbiology listserv, I called the Horse Center."
Even though she lacked prior experience with horses, Young welcomed the chance to work with large animals.
"I volunteered at the Humane Society in Phoenix, and I worked with cats and dogs there," she said. "I always wanted to work with horses but I never had the opportunity."
Though Young has not decided which field of veterinary science she will pursue, she enjoys her time at the Equine Center.
"Working there gives me better insight into animals because I gain experience that I won't learn in the classroom," she said. "It's beneficial being around them (the horses) and learning their behaviors and their characteristics rather than just reading it out of a book."
Not only has the experience been educational, Young has gained a new perspective on the horses.
"I'm still learning to handle the horses," she said. "I'm a little intimidated by the stallions because they're so big. I like cleaning the mares' pens better. They're more calm."
Every day on the job, Young discovers more about caring for horses. She recently learned the fine art of putting a halter on a horse and how to give them an oral treatment using a special plunger.
One of the challenges Young faces is trying to remember which horse is which.
"It's hard to learn their names, but each of the horses has its own unique marking," she said.
Despite the fact that she frequently finds herself covered in horse manure, Young said transportation is the job's greatest inconvenience. She lives in Arizona-Sonora Residence Hall and she does not own a car.
"The worst part is having to take the bus all the way to Campbell and Roger," she said. "On Sundays it isn't so bad, but the rest of the week it can take 20 minutes."
Overall, Young takes her work with the proverbial grain of salt.
"My friends laugh when I tell them I shovel horse manure, but I like being around the animals," she said.