UA football team signs 21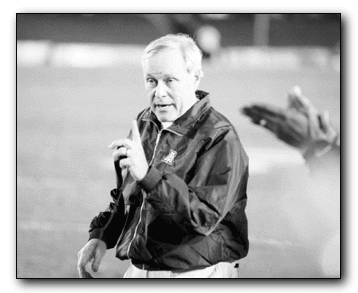 Matt Heistand
Arizona Daily Wildcat
UA football head coach Dick Tomey paces the sidelines during a game last season at Arizona Stadium. Tomey and the Wildcats announced the team's 2000 recruiting class yesterday.
Wildcat recruits address weaknesses in secondary, kicking game
On a day when most recruiting experts raved about the 2000 recruiting classes of football powerhouses Florida State, Florida and Texas, the UA football program quietly signed 21 players yesterday to national letters of intent.
The recruiting class adds to the three junior college mid-year recruits already signed and two other prep signees from 1999 who did not play last season.
"I think we may have addressed some of our biggest needs for next year's football team and bolstered positions such as offensive line, running back, defensive back types," Tomey said. "I think we really addressed our needs. It's a group that is academically solid, and if there is one physical characteristic, I think it is a group that runs well."
The 2000 UA recruiting class was ranked fifth in the Pacific 10 Conference and 33rd in the country by recruiting experts at Rivals.com.
Focusing their recruiting efforts on the "crying needs" of the team, the coaching staff evaluated players with good position flexibility, especially those capable of playing either the fullback/tight end or running back/defensive back roles.
"We have some real crying needs which were obvious to the junior college players," Tomey said. "We visited fewer (JUCO) players in total but got a higher percentage of them in recent memory."
A total of eight junior college players make up the UA recruiting class, most of whom will press for playing time next season.
Tommy Kirvovski, a JUCO All-American place kicker, will fill one of the Wildcats' biggest needs in the kicking game, which Tomey stressed as the team's most important improvement.
"We ended up with Tommy because we felt he was the best one in junior college football," Tomey said.
Other junior college players included defensive backs Jermaine Chatman and David Crockett, teammates at Pasadena Community College in California. The two have very similar styles of play and are strong cover corners.
Chatman will likely redshirt this season because he will not be able to participate in spring practice. Crockett, though, is one of three incoming JUCO players with three years of eligibility at Arizona.
Quarterback Erik Garcia will spend the upcoming year backing up senior quarterback Ortege Jenkins and learning the UA offense. Garcia, from East Los Angeles CC, also has three years of eligibility and has impressed the coaching staff with his arm strength and footwork.
Another JUCO transfer with three years of eligibility is offensive lineman John Vorsheck.
"We feel like he will be a help this fall," Tomey said.
Vorsheck will be joined by CBS Sportsline JUCO All-American Ralph Zarate on the offensive line.
Rounding out the JUCO class are linebackers Ray Wells and CBS Sportsline JUCO All-American Tony Thompson.
With the junior college players expected to contribute immediately, Tomey and his staff expect a slower progression from the incoming freshmen.
"Several of these guys will play for us next year. We just don't know which ones," Tomey said. "But some of them will not physically be up to it, just in terms of size and strength or maturity, but some will be."
The freshmen class is highlighted by five PrepStar All-Americans - running back/defensive back Anthony Fulcher, offensive lineman Keoki Fraser, defensive back Justin Jochum, defensive lineman Vince Feula and running back Chris Harris.
Fulcher, who runs a 4.43 40-yard dash, was one of the more sought after players in Arizona and could contribute to UA either as a running back or defensive back.
Fraser, meanwhile, follows in the footsteps of his older brother, Keoni Fraser, as he will be a lineman at the UA.
As a baseball star from Colorado Springs, Colo., Jochum chose Wildcat football over a baseball career.
"He is too good a student and is too invested in education," Tomey said, dismissing the notion that Jochum might choose to play professional baseball instead of collegiate football.
Feula is expected to add depth to the defense and continue the tradition of undersized defensive linemen at the UA.
Like Wildcat players Joe Salave'a, Edwin Mulitalo and Brandon Manumaleuna before him, Fata Avegalio continues the trend of Samoan athletes coming to UA. Avegalio will be either a linebacker or defensive end for the Wildcats.
Tucson native Tremaine Cox, running back, was the top local freshman recruit for the Wildcats.
"He's just got the world in front of him because he has got so much capability," Tomey said of his freshman running back.
Like Cox, Clarence Farmer is another highly recruited running back who committed to Arizona. Farmer chose the Wildcats over Tennessee and proved to be a key addition to the 2000 recruiting class.
"With Clarance, he was very heavily recruited, and I think it is gratifying when you can compete with that kind of competition," Tomey said.
"But that doesn't necessarily mean that he will be a successful player."
The player with the biggest upside for the Wildcats could be quarterback Steve Fleming, who Tomey said, "can run like the wind." Fleming is considered a project at quarterback but has the versatility to play other positions, including tight end, defensive end and safety.
Providing depth at the linebacker position will be Pat Howard, who won the Houston's Touchdown Club Linebacker of the Year Award.
Other Texas products are offensive linemen Chris Johnson and Reggie Sampay. Both Johnson and Sampay should be great additions to solidify the Wildcat offensive line.
The final offensive lineman in the 2000 recruiting class is Perry Thompson, a 6-7, 275-pound giant who possesses excellent footwork.
The only wide receivers among the 2000 class are Juan Valentine and Ricky Williams. Williams has great hands and will provide a big body for the Wildcat quarterbacks to throw at.
"He was the receiver we liked the best," Tomey said.
Valentine will mostly likely end up playing at the junior college level, but will retain his scholarship at the UA.
The first player to commit to the Wildcats was Tony Wingate, a quick running back/defensive back from Saguaro in Tucson.
"He is another one of those individuals who, as he develops and grows, we will have a better idea of where he will play position wise," Tomey said.
With the recruiting class all but set, the Wildcat football team seems to have strengthened their weak spots in the defensive backfield and kicking game. In addition, the UA also bolstered both the offensive and defensive lines and added much-needed depth to the running game. The UA may still sign a few more players, but Tomey does not expect to sign any this week.