Finally, a home game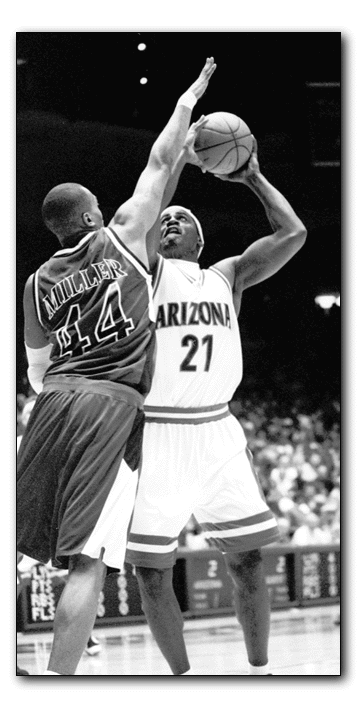 Wildcat File Photo
Arizona Daily Wildcat
The secret is out on how to beat the UA men's basketball team.
Pack'em in down low and challenge Arizona to take the outside shot.
USC and LSU held Arizona's shooting percentage down and found tremendous success. Now, No. 23 Oregon (15-3 overall, 6-1 in the Pacific 10 Conference) will give it a try tonight when the two teams tip off at 6:37 at McKale Center.
But one advantage USC and LSU had that Oregon won't have is the home court advantage.
The Wildcats (17-4, 6-1) have played six of their last eight games on the road, and haven't played at McKale Center since Jan. 15.
Perhaps returning home will help cure Arizona's shooting ills.
"At home, the confidence level will be really good," sophomore forward Michael Wright said.
"It'll feel nice to just go out there and play in front of our crowd instead of a hostile one."
Against Louisiana State, the Wildcats had their worst shooting performance of the year, shooting just 33.9 percent from the field and only 15 percent from three-point land.
Sophomore forward Rick Anderson did not make the trip to Baton Rouge, La., for the LSU game last weekend for undeclared reasons, but Anderson should return tonight.
With the bench seemingly getting smaller by the week for Arizona, any outside threat will help.
Junior center Loren Woods and Wright have been double- and triple-teamed, leaving the perimeter players with open looks.
Unfortunately for the Wildcats, freshmen guards Jason Gardner and Gilbert Arenas, along with redshirt freshman forward Luke Walton, have been inconsistent in knocking down the open perimeter jumper.
UA head coach Lute Olson said it's not a matter of Arizona not playing well, it's just the team's shots haven't been falling.
"We've got to hit the shots. It's that simple," Olson said. "You take a look at the shots we're getting, they're great shots."
Walton, sensing he needs to shoot more, has scored a career high in the last two games.
After tossing in 10 against ASU, Walton had 13 at LSU.
With some of the pressure off Gardner and Arenas, Walton has quietly developed a hot hand.
"I hope they don't ice me out," Walton said. "I'm sure they will (get me the ball) ... they do a great job each game.
"They've given me the ball before, but I just haven't been shooting it. Jason tells me, 'Luke, if I'm going to pass you the ball, you better shoot it, because I need an assist.' I can tell they have more confidence in me."
Oregon, along with Arizona, Stanford and USC, is tied for first place in the Pac-10.
The Ducks feature the current Pac-10 Player of the Week, A.D. Smith, who averages 15.4 points per game.
"It's not a case if any one guy has a bad game, they're in trouble," Olson said.
"One of the keys for us is controlling their open-court game."
Oregon leads the Pac-10 in field goal percentage, shooting 49.9 percent.
Its 73.9 percent free throw percentage also leads the conference.
"We just need good team defense," Wright said. "We need to go for steals and blocks - just play defense as a team."
If the team plays aggressive defense, like it did against UCLA and ASU, the Wildcats agree the offense should fall into place.
"We need to do what we did against ASU," Olson said. "As soon as we hit some of those shots, the inside opened up a little."
Bryan Rosenbaum can be reached at Bryan.Rosenbaum@wildcat.arizona.edu.