University art department prepares for 'world-class research center'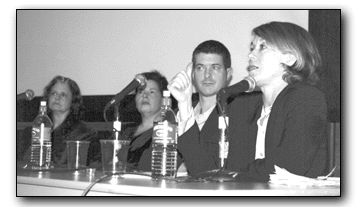 Sarah Brown
Arizona Daily Wildcat
SSuzanne Lacy, conceptual performance artist, explains her perception of public art while New York-based art critic, curator Dan Cameron, Mary Jane Jacob, chief curator at the Museum of Contemporary Art in Chicago and art historian Arlene Raven look on.
The University of Arizona has the potential to become the international epicenter of public art studies, a panel of national art consultants said last night.
In the last of a three-day discussion series, the four panel members explained to nearly 160 audience members the relevance of their field and helped introduce the idea of an interdisciplinary public art center at the UA.
"It's an interesting opportunity in historical terms," said Dan Cameron, a New York-based art critic, curator and national consultant. "We are facing a situation where public art is at the threshold of its time."
The discussion session, "Art in the Public Interest," was held in the UA Aerospace and Mechanical Engineering Auditorium and initiated the UA Art department's plans to form a comprehensive public art program - the goal of which has not yet been determined.
"We first have to decide on our mission and see what resources exist for us," Art department chair Andy Polk said.
Those working towards the public arts program met this week to discuss the possibilities of such a curriculum and the direction it would take.
They emphasized the importance of defining public art, identifying the stakeholders and constituents of a public arts program, structure, funding and assessment.
According to the consultants, this program would be the first of its kind in the world.
"Nobody has talked about this anywhere in the world," said Mary Jane Jacob, chief curator at the Museum of Contemporary Art in Chicago. "To me, this is an enormous opportunity."
Close to 50 people worked together at each of the two scheduled discussion sessions. An additional 15-person group met yesterday afternoon to condense the week's work.
Cameron said the public art field is currently at a stage comparable to the early stages of the cubist art movement - presenting a chance for those in the field to redefine the art form in its early stages.
"Nobody wants more bad art, let alone bad public art," he said. "Ten to 20 years down the line, public art will be much more understood with the public sphere in general."
Along with fellow panel members - conceptual performance artist Suzanne Lacy and art historian Arlene Raven - Cameron and Jacob said Tucson is a prime location for an unprecedented public art center.
"Tucson is a small enough town that people can conceivably work together and focus their energy in that direction," Lacy said.
Cameron said campus-area organizations like the Center for Creative Photography have set the same standards the public art center could.
"Tucson is no stranger to the kinds of institutions that attract worldwide attention," he said.
Aurore Chabot, chair of the public arts planning committee, said that a lot of the program's future hinges on fundraising.
The committee has proposed a capital campaign project to take place over the next 10 years, including a $5 million fund-matching plan.
Jacob said that this funding will only come with the elimination of certain societal prejudices concerning public art.
"The perpetuating of this myth of what the public likes is part of what studies (in a public arts center) could do," she said. "Some believe the public isn't going to get art if it's not traditional. This myth needs to be dispelled."
Discussions on and off-campus will continue, although nothing has been formally scheduled.
"Public art has become an important new interest, and opportunities are increasing exponentially," he said. "We are not talking about about an overnight thing."