Woods throws block party at McKale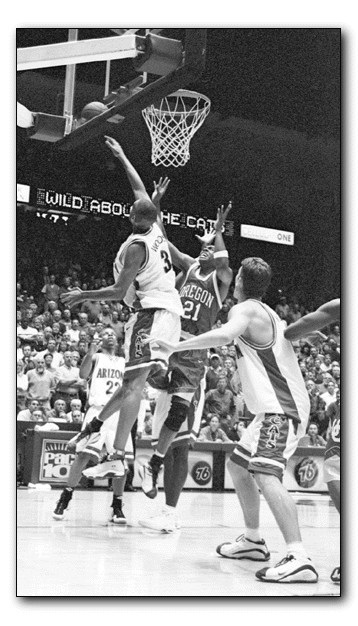 Matt Capowski
Arizona Daily Wildcat
Junior center Loren Woods swats away one of his NCAA record-tying 14 shots last night at McKale Center. Along with the blocked shots, Woods had 16 points and 10 rebounds to lead the Wildcats to a 77-71 victory over the Oregon Ducks.
Loren Woods told freshman guard Gilbert Arenas at halftime of last night's game that he would block 15 shots.
"I believed him," Arenas said.
The 7-foot-1-inch junior center, who had five blocks at the half, backed up his talk in Arizona's (18-4 overall, 7-1 in Pacific 10 Conference) 77-71 win over Oregon (15-4, 6-2) last night at McKale Center, finishing one shy of his prediction and tying an NCAA record with 14 blocks.
Woods now joins David Robinson, Shawn Bradley and Roy Rodgers at the top of the NCAA's single-game list.
"I just try to block every shot I'm close to," Woods said. "Those guys, they weren't afraid to bring it inside."
With 16 points, 10 rebounds and 14 blocked shots, Woods had the first triple-double in the Pac-10 since UCLA's Toby Bailey had one Dec. 18, 1995. It was the first triple-double by an Arizona player since Damon Stoudamire scored 32 points, 12 rebounds and 14 assists against Oregon on Feb. 23, 1995.
"Loren had an awesome performance today," sophomore forward Michael Wright said. "If it wasn't for his blocks and defensive presence, we probably wouldn't have won."
Oregon forward A.D. Smith, who scored 16 points, said the Ducks weren't intimidated playing at McKale, a place they haven't won at since 1985. Nor were they intimidated by Woods, even after he blocked three shots on Oregon's first possession of the game.
"(Loren) can say we're not deterred, but he still got 14 blocks," Smith said. "He took away at least eight shots, and those were important down the stretch."
Woods' blocks jump out on the box score, but Arizona's free throw shooting enabled them to surpass Oregon.
Arizona shot 27-for-36 from the stripe, compared to Oregon's two-for-three.
Freshman guard Jason Gardner, who played the entire game, struggled with his jump shot, shooting 1-for-7, but was 8-for-12 from the free throw line. Gardner scored the last four points of the game from the line to ice the victory.
"Luckily today, we hit some big free throws," Gardner said. "I think that came from confidence and working on them in practice. We hit free throws today, but we couldn't hit jump shots today. Saturday, we'll probably be able to hit jump shots and not free throws, so you never know what's going to happen."
Perhaps the most astonishing part of last night's game was the fact that the McKale Center crowd was into the game for 40 minutes, giving the Wildcats the boost they needed to overcome Oregon and remain tied for first place in the Pac-10 with Stanford.
"This crowd may have been as good a crowd as we've had, ever," UA head coach Lute Olson said. "We need that crowd involved like they were tonight every night."